We're all ready to get out, get away, and hit the high seas, so let's do it in style without ever leaving the UK! Get onboard the new Virgin Voyages Scarlet Lady when Atlantis creates the ultimate weekend holiday over the August Bank Holiday weekend.
In 3 outrageous nights you'll thrill to jaw-dropping entertainment, spectacularly fun parties, fabulously original dining, whimsical experiences, and unexpected surprises on the coolest ship ever to set sail. With gorgeous design throughout, Scarlet Lady has all we've dreamed of and more. Be the first to experience the newest way to sail as we craft the ultimate all-gay party weekend at sea.
This voyage is currently open only to fully vaccinated residents of the United Kingdom, although other sailors might be authorized at a later date. See our pricing page for sailing requirements.
August 27

Portsmouth

7:00 pm

August 28

Epic Day at Sea

August 29

Relaxing Day at Sea

August 30

Portsmouth

7:00 am
Portsmouth
Set sail from Portsmouth on a limited time voyage as Scarlet Lady makes a homecoming tour off the English coast. Sailing Friday through Monday (3 nights), be the first to get a taste of our incredible onboard experiences while soaking up sun-drenched days and long summer nights under the stars.
Epic Day at Sea
Sailing on Scarlet Lady with Atlantis is unlike any cruise experience we've ever created. Explore her striking design and unique places to play. Let us entertain you in unexpected ways everywhere you turn. And of course, join friends old and new on the dance floor at our spectacular T-dance!
Relaxing Day at Sea
Get out and play today to experience all Scarlet Lady has to offer. We've got a day of endless surprises in store for you.
Portsmouth
You're back before you know it, but don't worry we won't throw you off early. Relax and enjoy your morning with a Virgin-style breakfast and plenty of time to head home with a smile.
Scarlet Lady is the first ship purpose built for hyper-social, endlessly interactive, original fun -- changing everything you thought about playing on the ocean. You'll feel like a true sailor on your own massive yacht-like playground. Imagine a pool deck designed for both relaxing and dancing. A gym you never want to leave.
Chilling out in a net 13 stories above the ocean. Wellness that surrounds you. Innovative dining unlike anything at sea. Brunch in two places. Everyday. Drag queen hosts and pop-up puppeteers.
Shows where you're part of the action and magic in unexpected places. And that's just the beginning. On top of all Virgin has to offer you'll be thrilled by even bigger Atlantis parties, our own original entertainment, and so much more. We've never played like this before!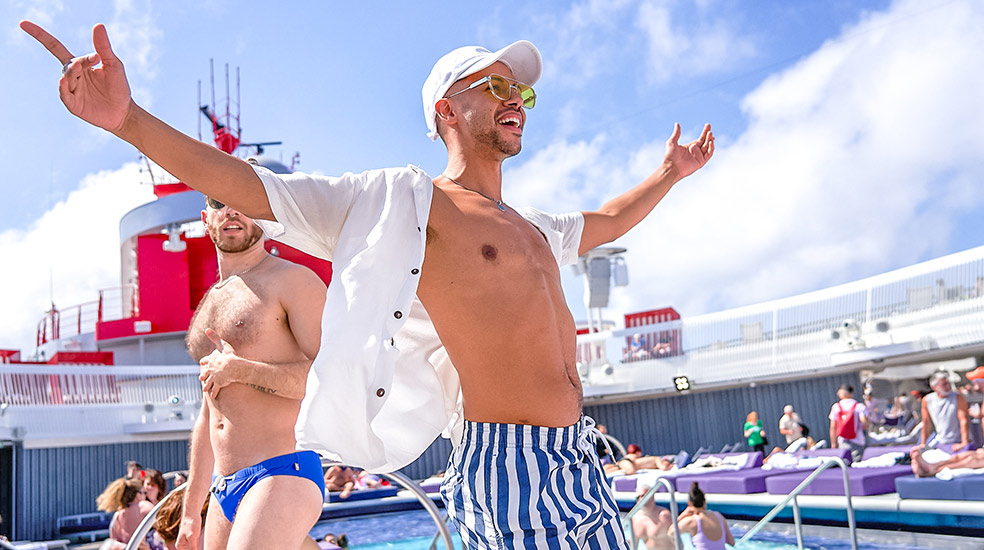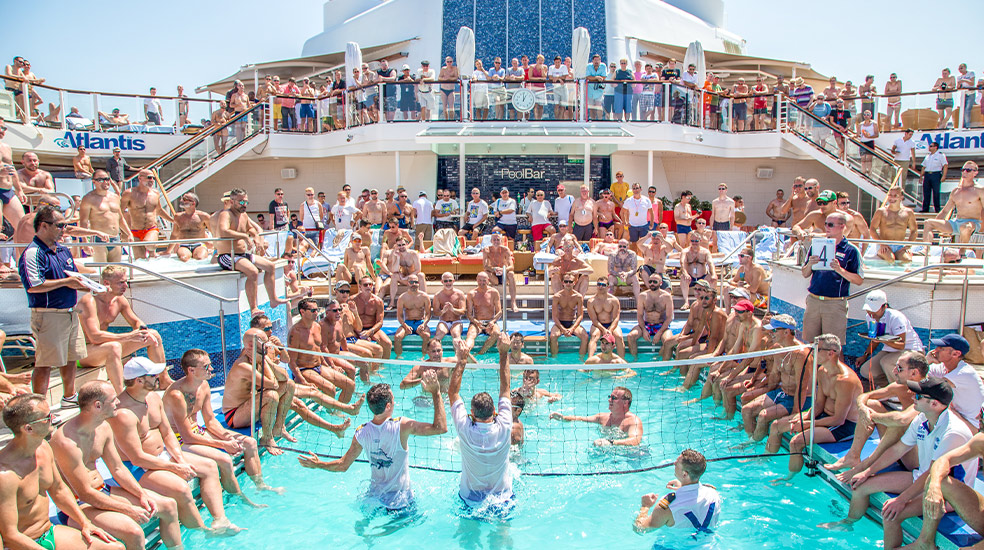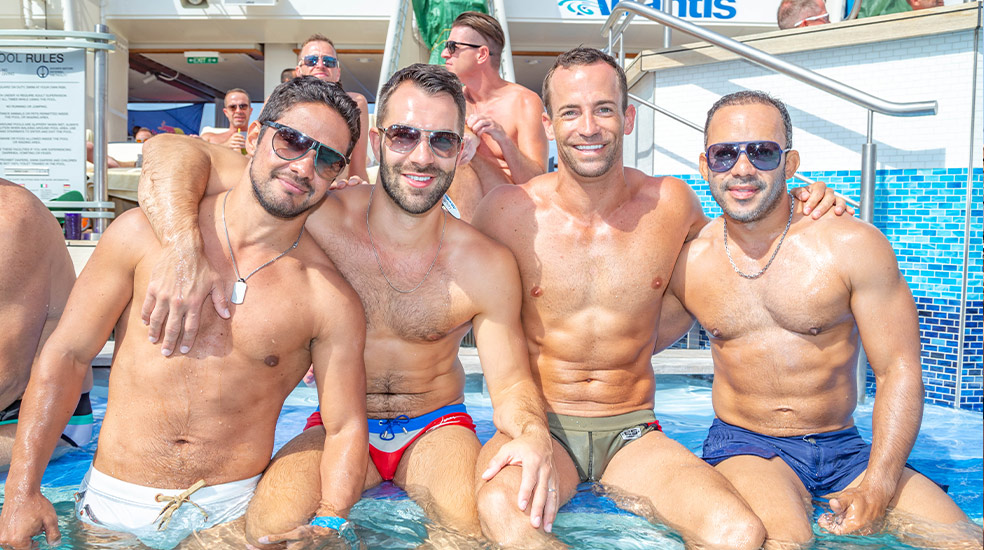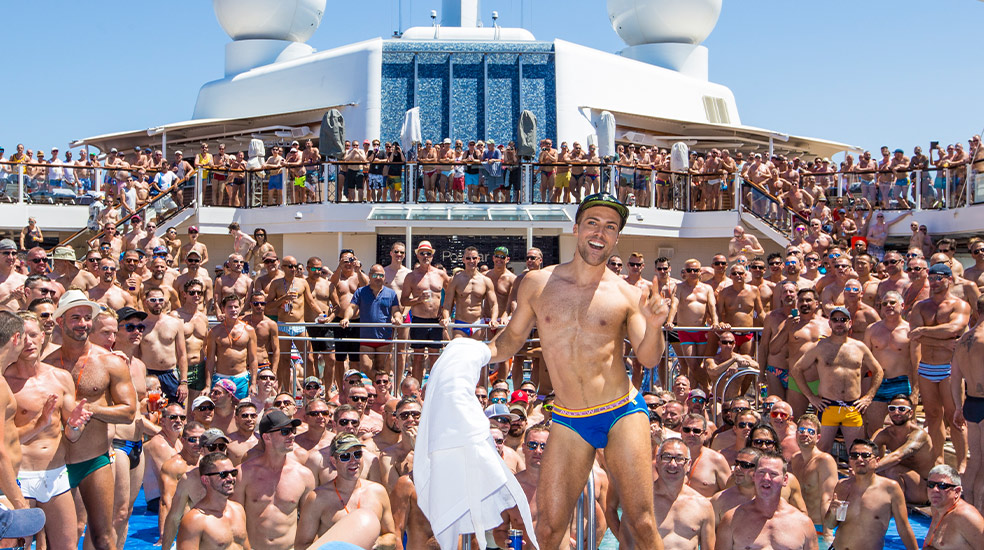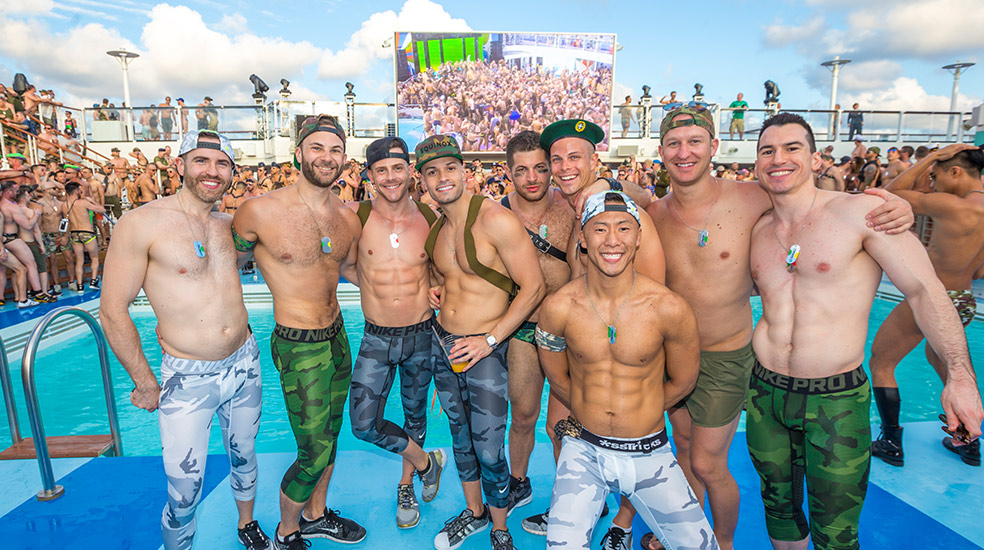 Set sail from Portsmouth, just an hour from London, for three somewhat crazy, totally unexpected, often wild, and yet purely relaxing days at sea. Settle into a stylish deck chair around the Athletic Club to catch some rays, connect with friends, or just enjoy the views. Drag yourself out to Atlantis' outrageous drag bingo (yes, that really happens), or savor a leisurely brunch. Just save some energy for our outrageous afternoon T-dances and surprise shows!
When you're ready to step things up, pop into an inspired fitness class at Training Camp, and afterwards find the perfect treatment at the Redemption Spa.
We're planning a non-stop festival of entertainment and fun that all of us need right now, with plenty of time to chill, relax, and enjoy the wonders of being at sea.
You're never far from entertainment on Scarlet Lady, and sometimes you're literally part of it! From pop-up surprises to sensual dance productions, cutting edge DJs to a sex-themed talk-show, innovative theater to secret stories. All with a little magic thrown in.

We'll showcase Atlantis' signature blend of singers, comics, drag queens, and our community's most talented performers. All appearing in new and creative ways.
There's never been a pool deck as perfectly designed for the Atlantis style of free-spirited dancing under the sun and stars. From our signature themed t-dances to outrageous nighttime parties we'll feature the world's finest DJs with a production unlike anything you've ever seen. All we can say is wait until you're in the middle of it all.
Join us late night for the ultimate after-hours events in the Manor nightclub and Red Room. This weekend the party never really ends!
Everything Included. For Nothing.
Nobody likes paying for things they use all the time, like Wifi, basic beverages, and a terrific place for dinner. So we don't charge extra for them.Ever. Even fitness classes are included! Logon, drink up, spin a little, and enjoy!
Every fabulously original restaurant is included with more choices than any other ship at sea. All you have to do is decide whether to indulge in fresh Italian at Extra Virgin, Korean BBQ at Gumbae, a tasting at the Test Kitchen, brunch or steak at the Wake, all-day treats at Razzle Dazzle, and so much more. And there's no buffet in sight. Or a massive banquet-like main hall. Butwho needs one with all these amazing places?
Oh, and by basic beverages we mean sodas, water, coffees, juices, and most non-alcoholic offerings. The hard stuff is, of course, extra.

We can't wait to show you the future of sailing with Virgin and Atlantis! It's the perfect combination and the start of many more to come, and there's no better way to preview it than over a long weekend
Since Atlantis is a US-based company, we have to price our events in US Dollars, with super low fares starting at just $529 for 3 nights of non-stop fun. We want to make this weekend acessible to absolutely everyone -- since we all need to get away!
Plus, there's more included on Virgin than any other cruise that Atlantis offers:
Included Basic WiFi
All Premium Dining Included. Everywhere! (even room service)
All Basic Beverages Included
All Fitness Classes Included
We're taking the sea to a whole new level. Get onboard the ocean's newest experience today and experience Scarlet Lady first!