Be the first to sail the new Virgin Voyages next summer when Atlantis charts a new course from Barcelona to the best of sunny Spain. We're creating a whole new way to play with the perfect match of brilliant destinations and dazzling original experiences onboard. In seven magical nights you'll enjoy jaw-dropping entertainment, fabulous dining, gorgeous design, spectacular service and so much more on the amazing new Valiant Lady. Be the first to discover what happens when Virgin joins forces with Atlantis to create a whole new way to discover the Med!
Book before May 16 and you'll save $400 per room off any TR or TC Balcony stateroom!
Itinerary is subject to port approval and may be changed at any time without notice.
July 3

Barcelona

6:00 pm

July 4

Awesome Day at Sea

July 5

Cadiz (Seville)

8:00 am

8:00 pm

July 6

Malaga

7:00 am

8:00 pm

July 7

At Sea/Ibiza

7:00 pm

Overnight

July 8

Ibiza

8:00 pm

July 9

Palma de Mallorca

9:00 am

6:00 pm

July 10

Barcelona

6:30 am
Barcelona
Start your journey in the gay capital or Spain and one of the most important cultural and economic centers in Spain, and indeed Europe. Since its founding, Barcelona has always been a center of art and design, culminating with Gaudi's masterpiece, the Sagrada Familia Basilica, a prime example of Art Nouveau architecture, with its bold color, beautiful tilework and swirling lines. Spend a day wandering through the old Gothic quarter or take a 30-minute trip to Sitges, the famed gay Spanish beach resort.

Atlantis will offer pre and post-cruise packages in Barcelona that include transfers and in-depth tours of this vibrant and thrilling city.
Awesome Day at Sea
Sailing on Valiant Lady with Atlantis is unlike any cruise experience we've ever created. Explore her striking design and unique places to play. Let us entertain you in unexpected ways everywhere you turn. And of course, join friends old and new on the dance floor at our spectacular T-dance!
Cadiz (Seville)
There are probably no more famous streets in the world than those in the capital city of Andausia. Breathtakingly beautiful Seville is the 4th largest city in Spain, founded as a Roman town and now features a unique mix of Roman and Moorish architecture, alongside remarkable modern buildings. Visit the lavish St. Mary of the See Cathedral, one of the largest medieval and Gothic buildings in the world, or the sweeping grounds of Plaza de España. Just don't miss a chance to indulge in the city's unique tapas scene.
And if you don't want to take the hour trek to Seville, Cadiz, is an outstanding introduction to Andalucia. The charming old quarter in Cadiz makes it easy to see why this small seaside town is frequented by Spaniards on holiday.
Malaga
The capital of Spain's Costa del Sol welcomes over 6 million tourists each year to Malaga's powder-white beaches, Picasso Museum, and inviting old town. Walk up the hill to city's 2 massive hilltop citadels, the Alcazaba and ruined Gibralfaro, remnants of Moorish rule. Or head over to nearby Marbella, one of the most beautiful and inviting port cities in the Med.
For a spectacular once-in-a-lifetime experience, head up the palace of Alhambra in legendary Granada. Our late stay lets you do it all!
At Sea/Ibiza
Everyone has their own opinion of Ibiza, and it's the one place that truly has something for everyone. From the world's best nightlife to some of Spain's most isolated and quiet beaches, it's an island that lets you create your own playground. We'll arrive at night, in time for a walk through the streets of the old town of Dalt Vila, a drink on the terrace, and a visit to one of the legendary nightclubs. Or just watch the parade of craziness!

We'll have time the following day to enjoy one of the magnificent beaches with tours to the gay beach at Els Salinas. Or explore on your own to one of the islands many charming villages. No matter what you do, It's hard not to fall in love with Ibiza's many charms.
Ibiza
Today is a day for seeing the other side of Ibiza. After last night's fabulousness, maybe a relaxing day on the beach is in order and Ibiza has plenty of them, ranging from the electric gay beach at Els Salinas to quiet coves scattered along the island's ruggest coast.
Take some time to wander through Dalt Vila during the day. Or explore on your own to one of the islands many charming villages. It's all here for you and easy to reach with our extra-long visit.

Palma de Mallorca
Gorgeous, accessible Palma is just the beginning of Mallorca's charm. It's immense Gothic cathedral, moored like the prow of a great ship on the Mediterranean's edge or its astounding galleries are just a tip of the iceberg. If the sights don't grab you, the soulful sea views, fabulous food and happening bar scene surely will. Need a breather? Within minutes you can be at a hilltop castle or stretched out on a beach. No wonder it's a favorite of travelers from around the world!
Barcelona
We return to the Med's most gay-friendly city as Barcelona begins to celebrate summer. Spend a few days exploring all that this magnificenet beachfront city has to offer, or take a tour further afield to the wine regions of Penedes, the beaches of Costa Brava, or the historical sites of Girona. It's all right here and easy to reach in less than a day.
Atlantis will offer both post-cruise tours and accommodations to create some magical moments you've never imagined.
Atlantis does not recommend flights before 11 am from the Barcelona airport if you are flying out on July 10.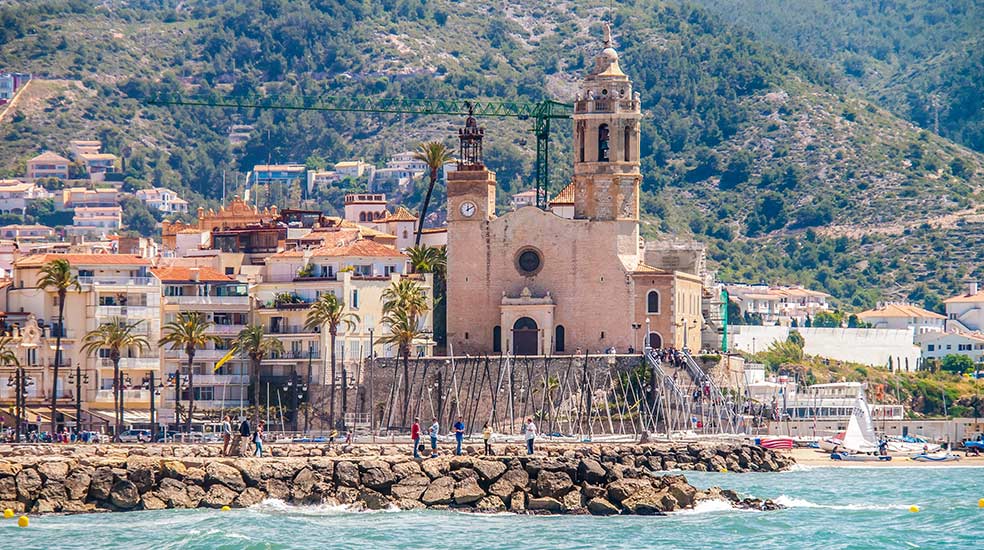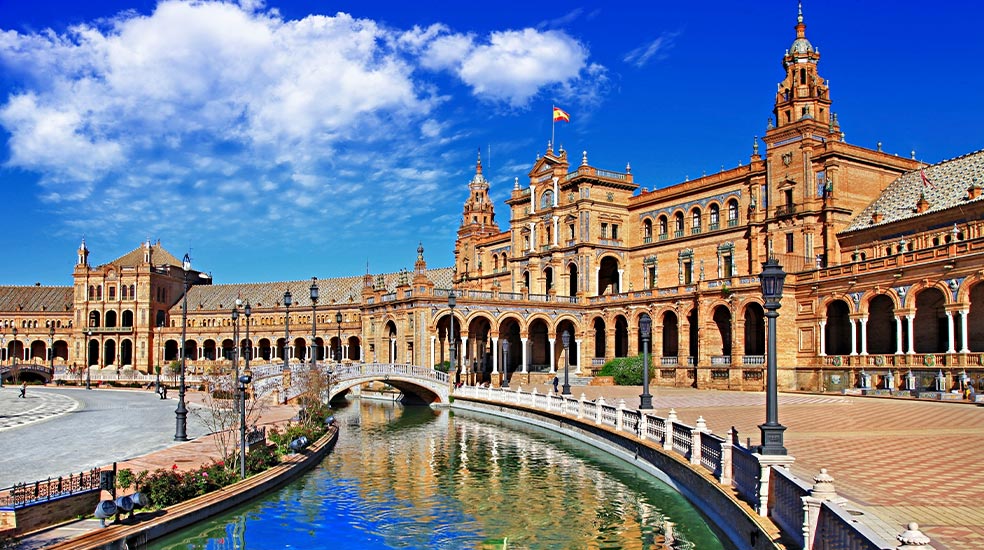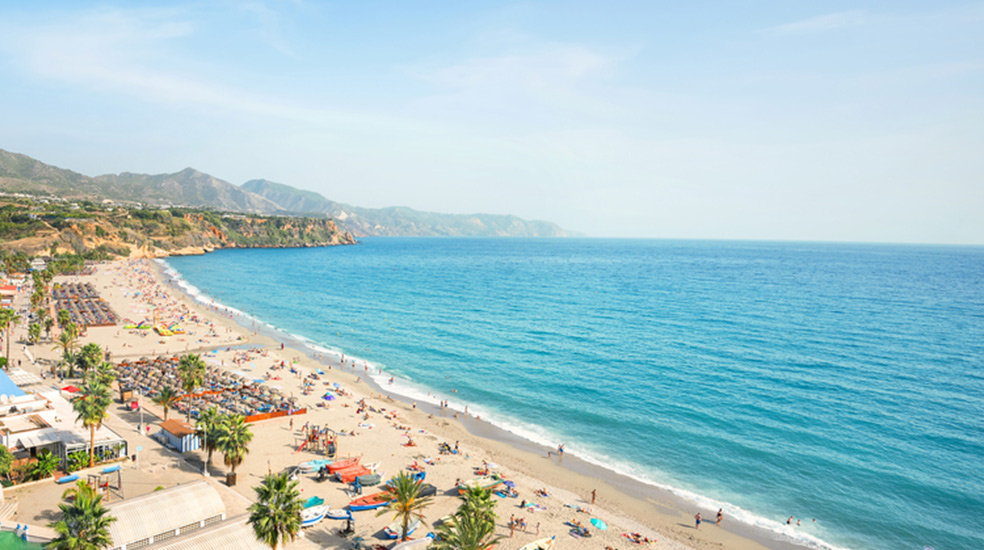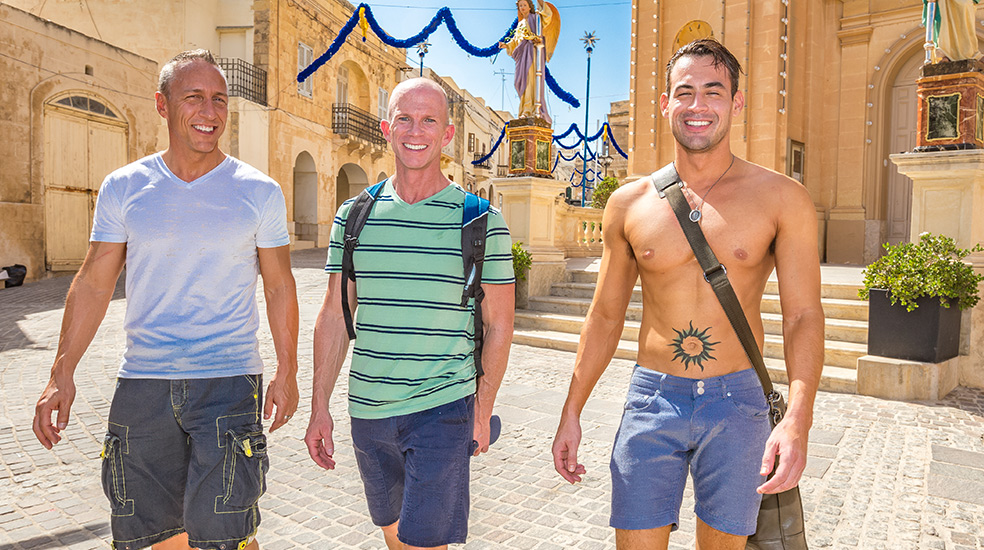 Explore the best of Spain at the height of summer as we set sail from Barcelona – the perfect place to start an all-gay cruise. After an epic day at sea enjoying all that Virgin has created, you'll set foot on the shores of Cadiz, gateway the sun-drenched streets of Seville. From there we'll head to the sophisticated beach city of Malaga, where thrilling tours to Alhambra await along with many other treasures. Our late stay there lets you do it all!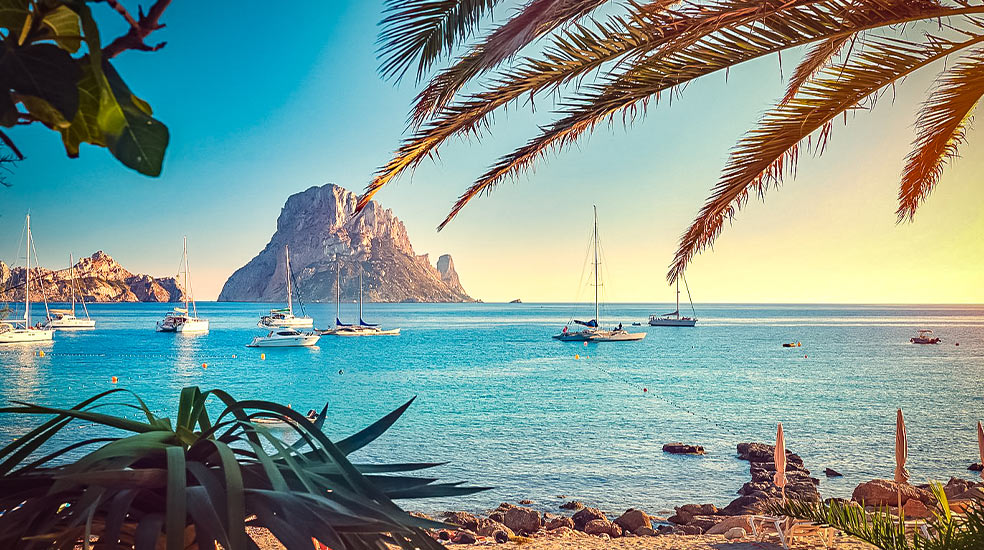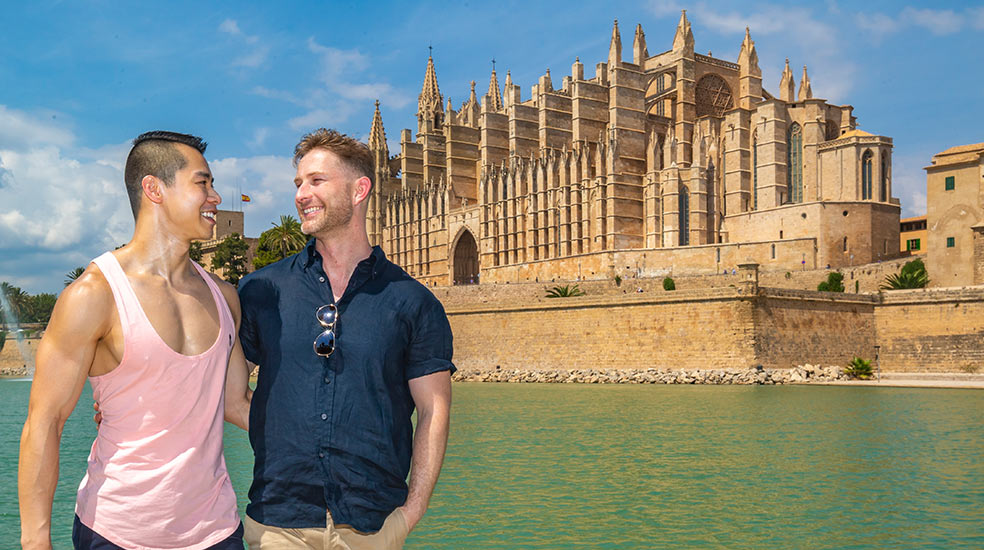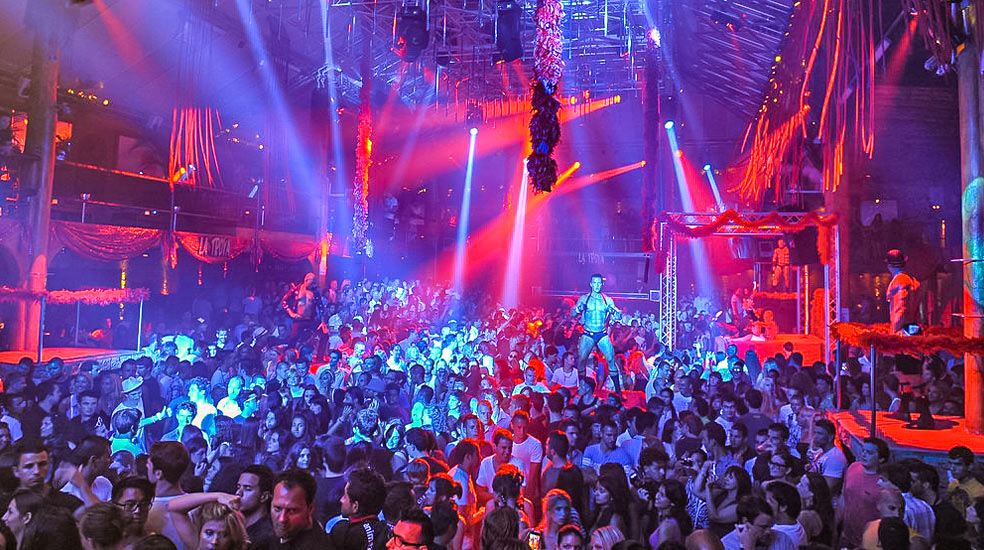 Relax as we sail to the legendary island of Ibiza – you'll need it given all we have in store for you. We arrive just in time for a late dinner in town and of course an overnight stay to sample Ibiza's legendary nightlife scene. Just save some energy to enjoy the island's gorgeous beaches, shops, and restaurants the next day!

After an amazing night onboard, we'll pull into gorgeous Palma de Mallorca so you can experience the other side of the Balaeric islands. Explore the city's imposing gothic cathedral, wander the city's cobblestone streets or head to one of Mallorca's legendary beaches. It's the perfect ending to a Spanish adventure!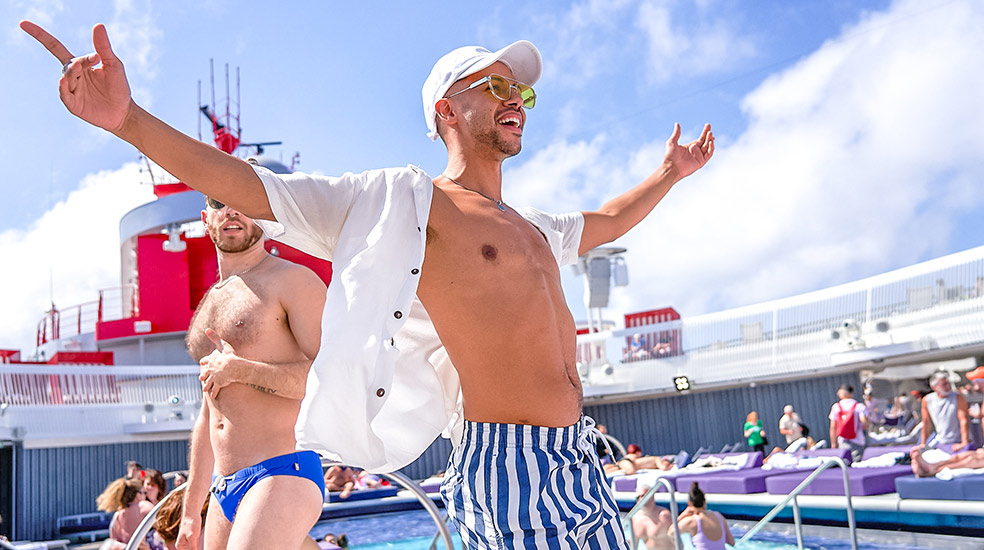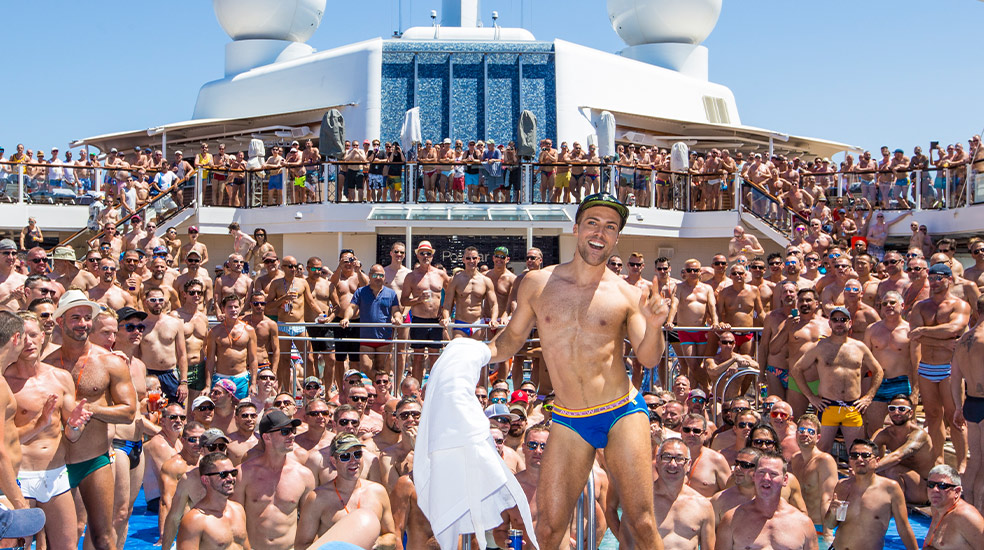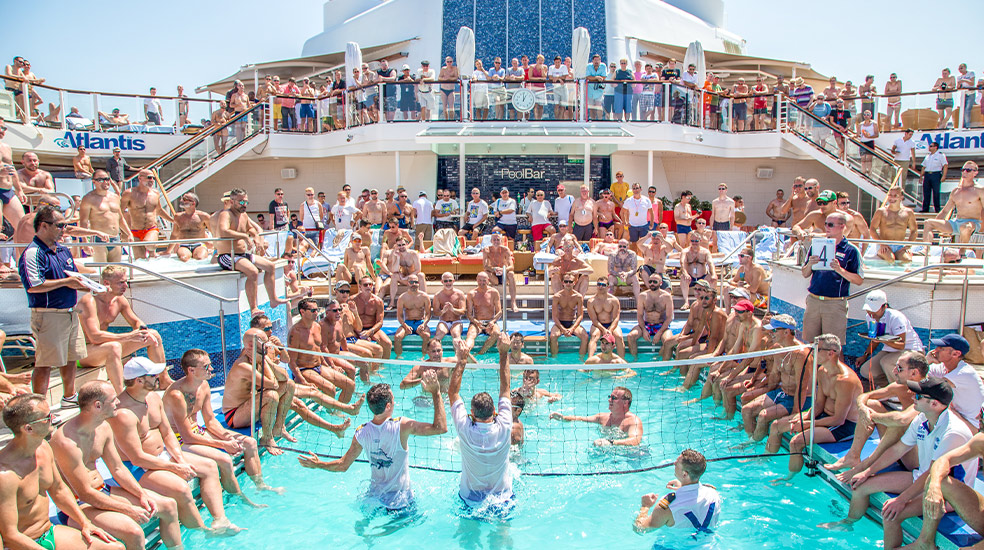 Get onboard the first ship purpose built for hyper-social, endlessly interactive, original fun -- changing everything you thought about playing on the ocean. You'll feel like a true sailor on your own massive yacht-like playground.

Imagine a pool deck designed for both relaxing and dancing. A gym you never want to leave. Chilling out in a net 13 stories above the ocean. Wellness that surrounds you. Innovative dining unlike anything at sea. Brunch in two places. Everyday. Drag queen hosts and pop-up puppeteers. Shows where you're a part of the action and magic in unexpected places. And that's just the beginning.

On top of all Virgin has to offer, we'll bring you truly spectacular Atlantis parties, plenty of our own original entertainment, and so much more. We've never played like this before!
Everything Included. For Nothing.
Nobody likes paying for things they use all the time, like Wifi, basic beverages, and a terrific place for dinner. So, we don't charge extra for them. Ever. Even fitness classes are included! Logon, drink up, spin a little, and enjoy!

Every fabulously original restaurant is included with more choices than any other ship at sea. All you have to do is decide whether to indulge in fresh Italian at Extra Virgin, Korean BBQ at Gumbae, an inventive tasting menu at the Test Kitchen, brunch or steak at the Wake, all-day treats at Razzle Dazzle, and so much more. And there's no buffet in sight. Or a massive banquet-like main hall. But who needs one with all these amazing places?

Oh, and by basic beverages we mean sodas, water, coffees, juices, and most non-alcoholic offerings. The hard stuff is, of course, extra.
You're never far from entertainment on Valiant Lady, and sometimes you're literally part of it! From pop-up surprises to sensual dance productions, cutting edge DJs to a sex-themed talk-show, innovative theater to secret stories. All with a little magic thrown in.

We'll showcase Atlantis' signature blend of singers, comics, drag queens, and our community's most talented performers. All appearing throughout the week in new and creative ways.
There's never been a pool deck as perfectly designed for the Atlantis style of free-spirited dancing under the sun and stars. From our signature themed t-dances to outrageous nighttime parties we'll host the world's finest DJs with a production unlike anything you've ever seen. After all, this ship was built for a party like ours! All we can say is wait until you're in the middle of it all.

Indoors, we'll host fabulous parties in both the Manor nightclub and Red Room theater. Look for thrilling events in new and exciting ways.
We can't wait to show you the future of sailing with Virgin and Atlantis! It's the perfect combination and the start of many more to come.
Remember there's more included here than any other cruise Atlantis offers:
Included Basic WiFi
All Premium Dining Included. Everywhere! (even room service)
All Basic Beverages Included
All Fitness Classes Included
We're taking the sea to a whole new level as we visit the med in a whole new way next summer. Get onboard the ocean's newest experience today and experience Valiant Lady in her inaugural season!