Our 30th Anniversary celebration continues with a spectacular new cruise designed for exploration and adventure. Sail from Miami to discover the wonders of Costa Rica, Colombia, Panama, and more with a bold new itinerary sailing five remarkable countries. Chart a new course with Atlantis in 2022 with our dazzling lineup of performers, fabulous parties, and 2400 friends from around the world to redefine the magic of an all-gay cruise.
Join us for 10 nights beyond your imagination, with great deals from only $1099!
January 28

Miami, Florida

5:00 pm

January 29

Relaxing Day at Sea

January 30

Roatan, Honduras

10:00 am

6:00 pm

January 31

Epic Day at Sea

February 1

Puerto Limon, Costa Rica

8:00 am

7:00 pm

February 2

Colon, Panama

8:00 am

5:00 pm

February 3

Cartagena, Colombia

9:00 am

9:00 pm

February 4

Awesome Day at Sea

February 5

Georgetown, Cayman Islands

9:00 am

6:00 pm

February 6

Wonderful Day at Sea

February 7

Miami, Florida

7:00 am
Miami, Florida
Enjoy South Beach, home to Miami's brilliant gay beach, or explore the super-cool Wynwood Arts District packed with galleries, studios, and museums. Miami's infamous bars and clubs, exciting dining scene, and bustling beaches truly offer something for everyone.
Relaxing Day at Sea
There's nothing ordinary about an Atlantis day at sea! Options abound, from sophisticated to silly. Take in an informative lecture about our fascinating ports, indulge in a leisurely brunch with friends, or drag yourself to the most outrageous bingo at sea hosted by our talented queens. Just save some energy for Atlantis' signature sunset T-dance and a fabulous night of non-stop entertainment and fun. That's a full day to play!
Roatan, Honduras
Beautiful and unspoiled, Roatán is a peaceful, eco-tourist's dream, just 30 miles off the coast of Honduras. Teeming with marine life and home to some of the best pillar coral in the Caribbean, the pristine Honduran Reef is a diver's paradise. And the beauty of Tabyana Beach is always a sight to see.
Epic Day at Sea
It's time to indulge. Treat yourself to a spa day. Or hang by the pool with new friends. This day is all about relaxing.
Puerto Limon, Costa Rica
Puerto Limón is known for its multi-cultural community and a festive annual carnaval celebration. In recent years the area has become even better known as must-see stop for eco-tourists. The region's unique geography and neo-tropical climate combined with abundant rainforests make for one of the most naturally diverse "biospheres" in the world. And you can take advantage of national parks and reserves in all directions from Limón. Pay close attention when you dock as many guests have reported seeing peaceful sloths lumbering in the trees right in port!
Colon, Panama
Sail into the Caribbean seaport of Colón and grab a good spot on deck so you can take in the view. What a picture it is. Behold the Atlantic Ocean entrance to the famous Panama Canal. Born from a desire to get to California (and its Gold Rush) as fast as possible, this industrious town was the last stop on the 19th century Panama Railroad. It's now home to Canal Zones, U.S. military bases, and of course, beauty.
Cartagena, Colombia
The old walled city of Cartagena reflects a turbulent history of conquistadors and pirates. Climb "las murallas" for an unforgettable view of the harbor. Shop for emeralds and leather goods along the cobblestone streets of this enchanting city.
Awesome Day at Sea
Relax. Connect. Play. Sleep in a bit, and join a few friends for brunch. Drop into the spa for a pampering treatment or refreshing workout. And wait until you see how we wrap things up for you with some of the finest entertainment at sea.
Georgetown, Cayman Islands
The largest of the Cayman Islands, Grand Cayman is famous for its Seven Mile Beach, the popular Stingray City, and its excellent diving. Both nature and history are preserved underwater with a collection of easily viewed shipwrecks.
Wonderful Day at Sea
The anticipation builds on our final day at sea. Head over to the spa or catch a few pool games with friends before going out with a bang at our outrageous Classic Disco T-Dance. Catch the last of comedy or rest up before the Last Dance. Whether you turn up or wind down, find an endless selection of activities for your last day on board.
Miami, Florida
Welcome back to the vibrant city of Miami. Stay and enjoy the culture, sights, and sounds or continue on to one of the many great destinations in South Florida including Ft. Lauderdale and Key West.
Disembarkation beings at approximately 7 am and Atlantis does not recommend flights before 9 am.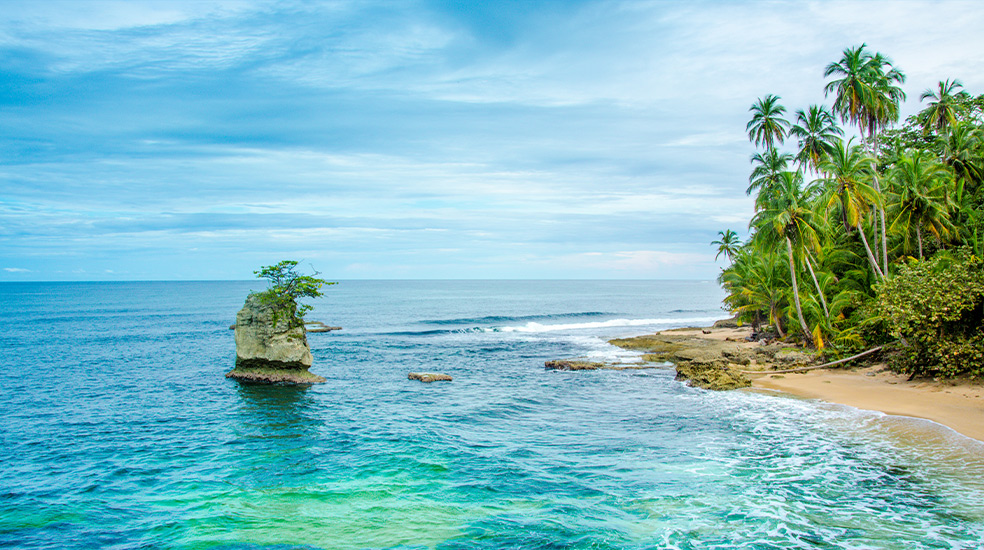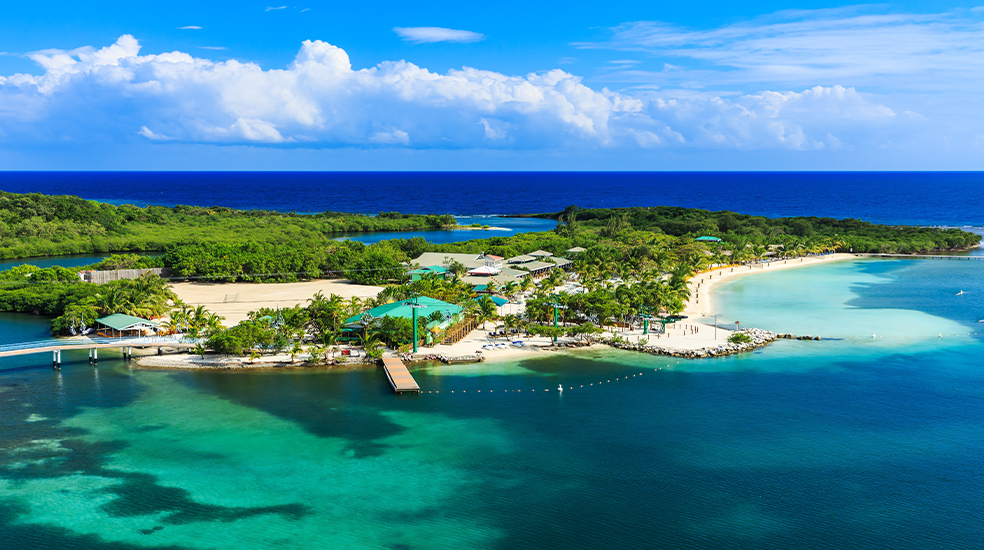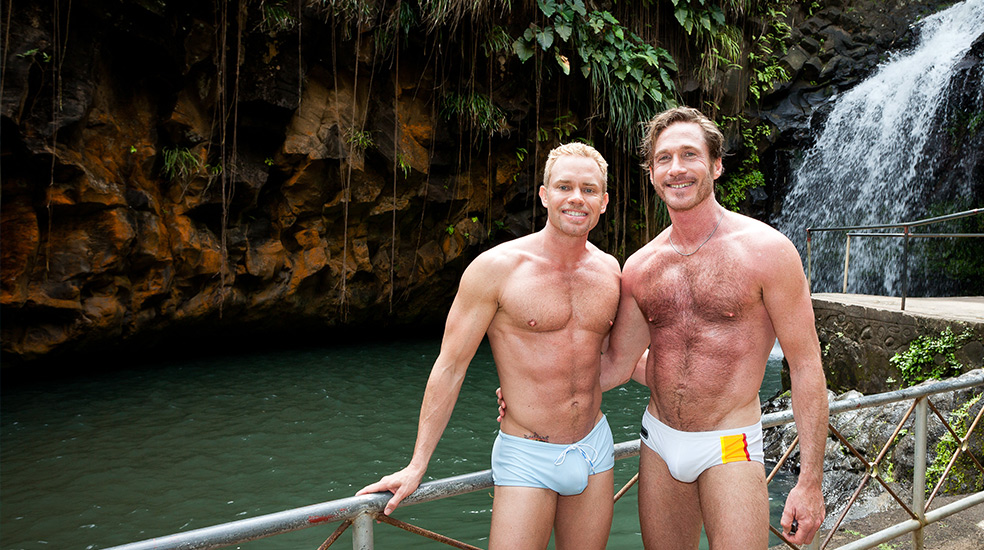 Head south, way south, with Atlantis as we craft a new way to play on our most exotic Caribbean cruise yet. Sail from convenient Miami to the best of Central & South America, starting with the glittering island of Roatan. This unique island borders the world's second largest barrier reef, making it a diver's paradise with plenty of action ashore.
After a relaxing day at sea, get ready to dive into the heart of Costa Rica's rich and beloved ecosystem, where thick rainforests host exotic wildlife and unexpected treasures. Spend the day exploring the historic city or head inland for a river cruise or rainforest adventure unlike anything you've ever experienced.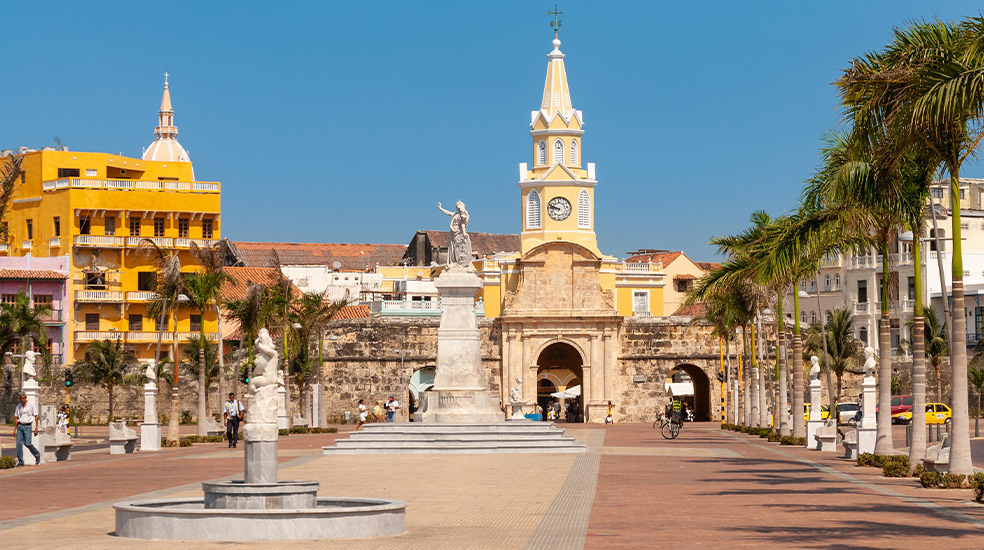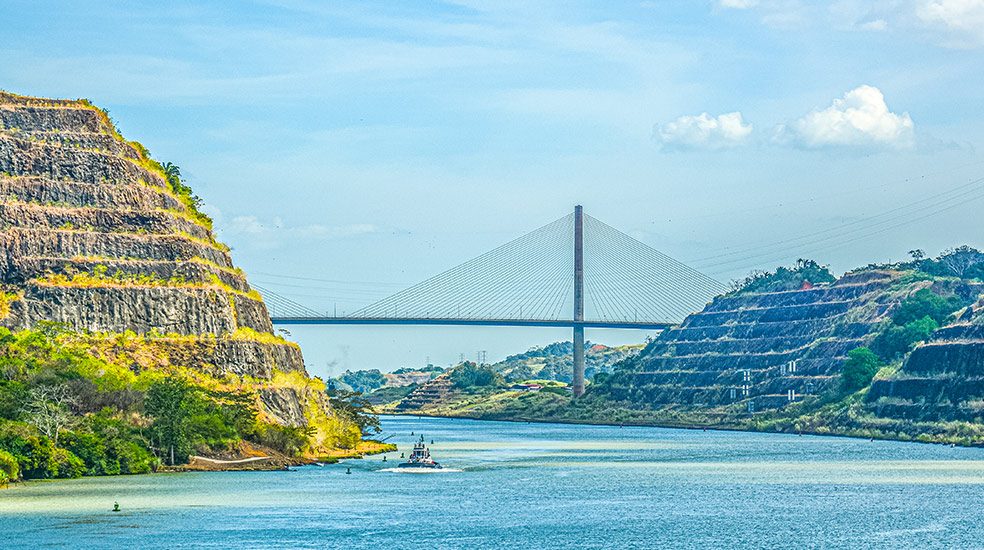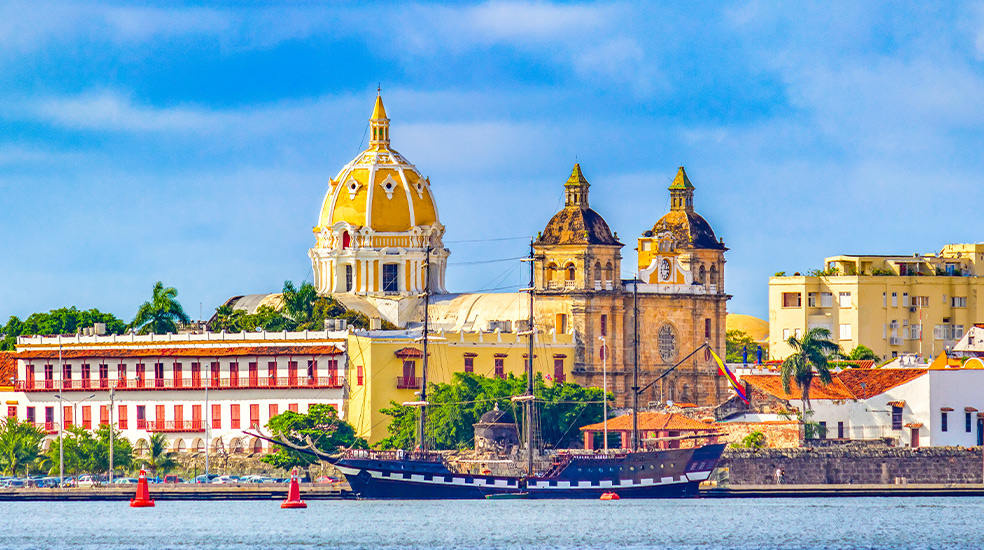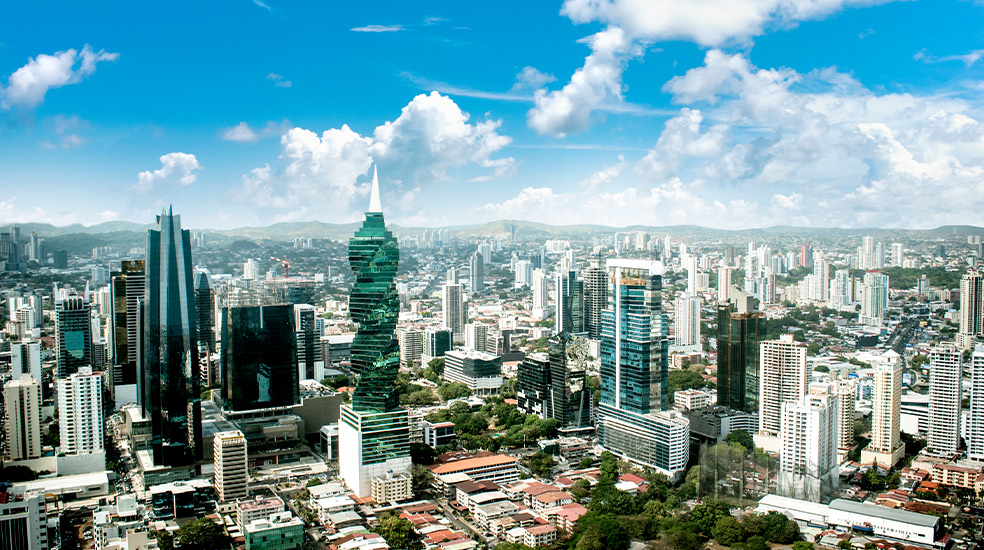 Atlantis' first-ever visit to Panama brings you right up to the world-famous Panama Canal, or make a day trip to Panama City, the country's largest metro area. Colon is ideally located for stunning excursions to more rainforests, Soberania National Park, and historic sites. And it's one of the world's largest duty-free shopping areas!

Our southernmost port of Cartagena is one of the most vibrant and fascinating coastal cities in South America, filled with castles and walls dating back to the city's 16th century founding. Explore the walled city and Plaza San Domingo or step back in time to the Palace of the Inquisition to learn about Colombian history. Our late stay gives you plenty of time to explore both the history and contemporary culture of this gorgeous city. Just make sure you take in some of the local flavors in Cartagena's bustling food scene!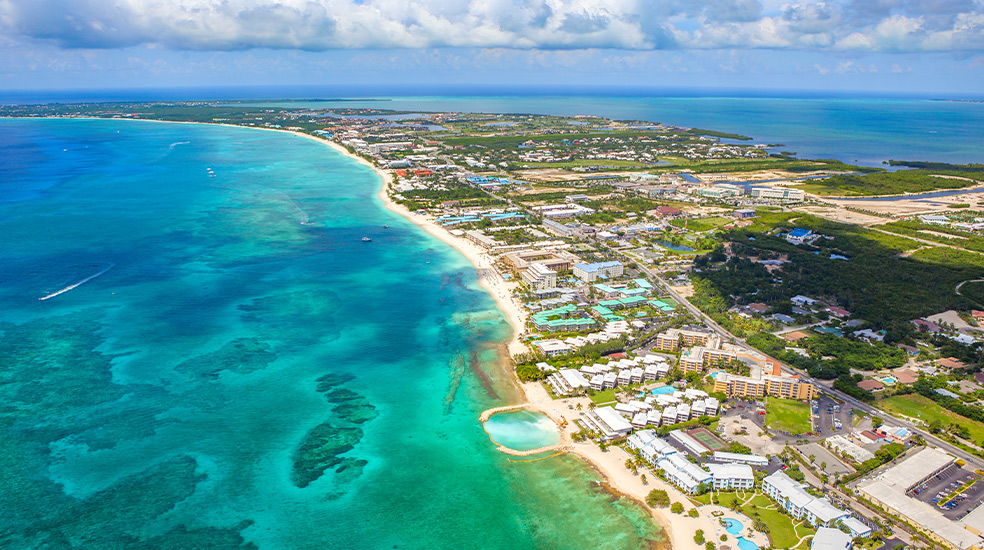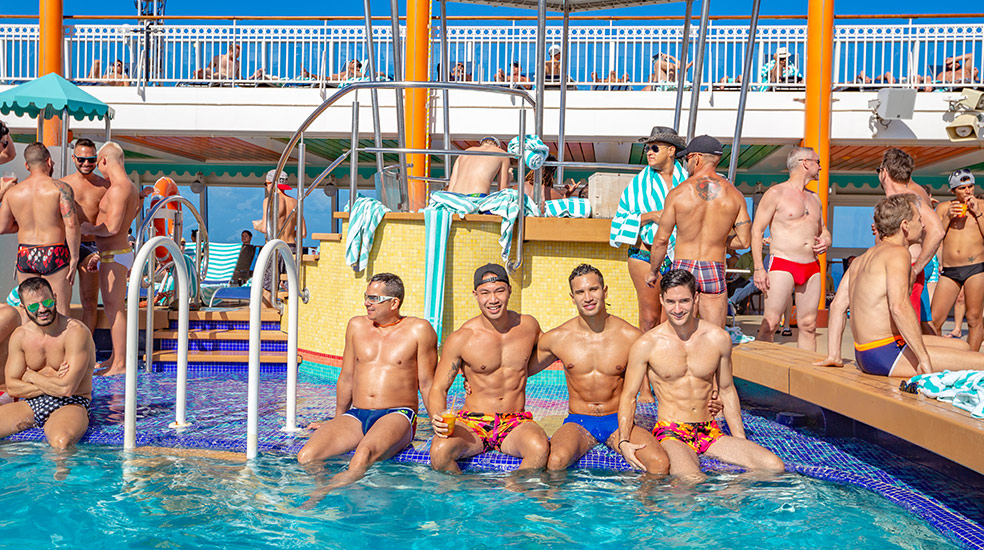 As we sail north again, spend a day on the magnificent white sand beaches of Grand Cayman, where azure waters create the picture-perfect shorelines. Whether you spend the day relaxing on Seven Mile Beach, exploring the Crystal Caves or shopping in Georgetown you'll find a gorgeous vibrant atmosphere unlike anything else in the Caribbean.

In between exploring, you'll have plenty of time to relax and play onboard Pearl over four sun-soaked days at sea. There's no better time to recharge, refresh, and enjoy quality time with Atlantis friends old and new on our beautiful home at sea.
From our daytime pool games to festive afternoon T-dances, you'll always be entertained. Take in our Drag Bingo (the gayest bingo ever) session, indulge in a leisurely brunch with friends, join a volleyball game, or find a quiet deck chair on Pearl's massive outdoor decks. When you're ready to really relax, drop into the spectacular Polynesian-themed spa featuring every imaginable treatment along with one of the largest and most complete fitness centers at sea.
Sail with 2400 friends from around the world on the stunning Norwegian Pearl for the ultimate celebration exploring the azure seas of the Caribbean. Pearl features a massive central pool deck, with wide open spaces for dancing under the sun and stars. You'll love her inviting modern design, wide variety of enticing restaurants, beautifully appointed spa, and spectacular performance venues.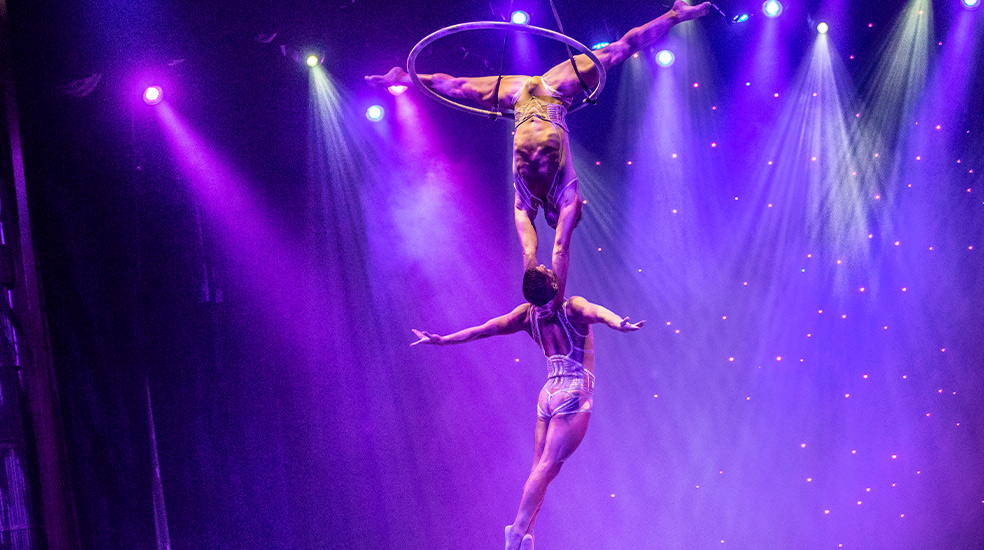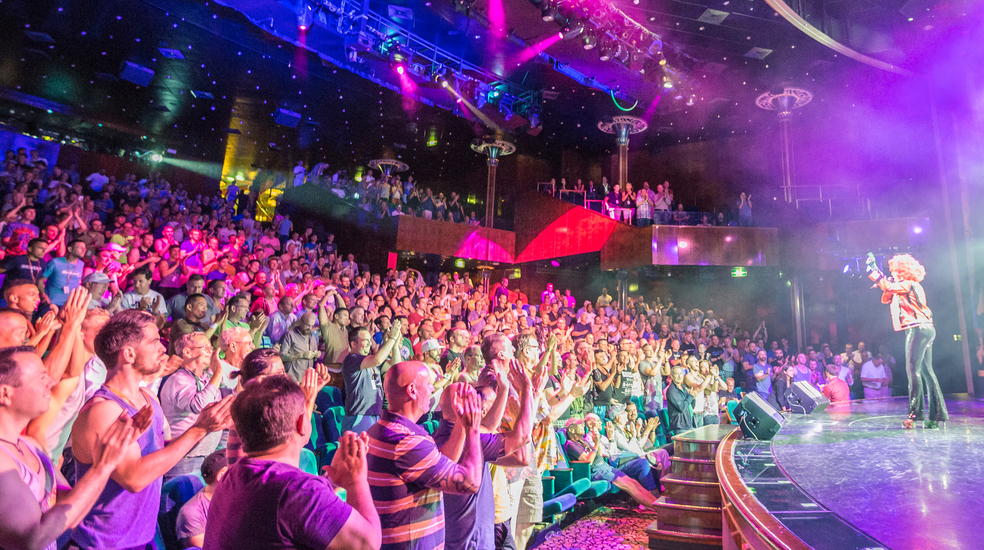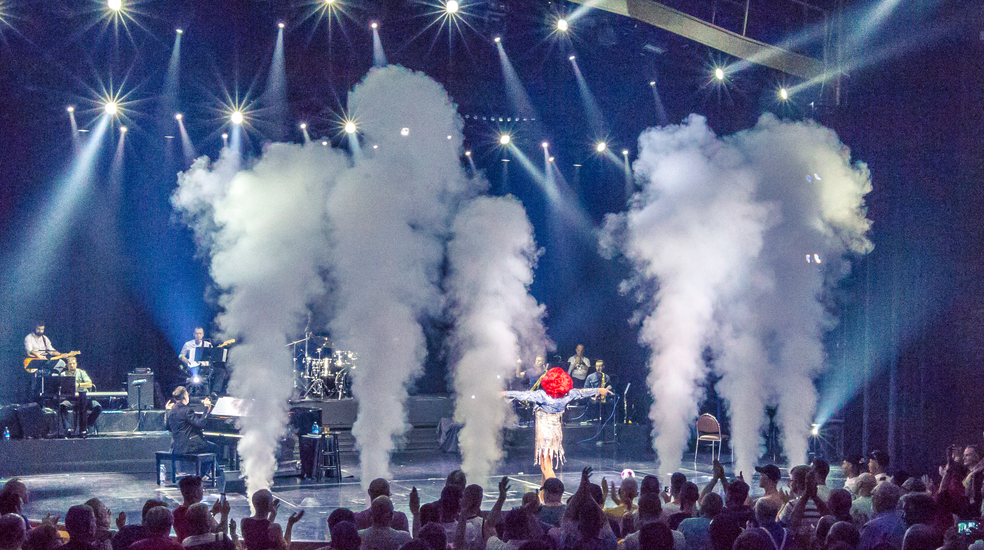 Amazing Entertainment. Everywhere.
With 10 magical nights, we'll offer more entertainment and more variety than ever! Our white-hot lineup features a mix of fresh and familiar Atlantis performers including our own stellar gay circus show, Miss Richfield 1981, La Voix, and many more of our stars old and new. We'll even invite a special guest or two from Broadway, TV, or beyond. Past years have featured Billy Porter, Cynthia Erivo, Patti LuPone, Idina Menzel, Kathy Griffin, Jennifer Hudson, Chita Rivera, Roseanne, and so many others. Who knows who might show up this year!
And that's just the beginning! Spinnaker lounge hosts intimate shows starring Atlantis original comics, drag queens, cabaret stars, and variety acts from our community. Our legendary piano showcase redefines fun on a keyboard, and plenty of surprises await every night with the biggest festival of gay entertainers on the planet!
Legendary Parties. Under the Sun and Stars.
Nothing compares to dancing under the stars or afternoon sun, and Pearl boasts one of the most perfect venues we've ever seen. An incredible and diverse set of spectacular parties will rise up from this remarkable space, featuring concert sound, amazing lights, dazzling lasers, mesmerizing video, and the friendliest crowd yet. The world's top gay DJs headline our signature themes and wide-ranging musical styles, plus a special superstar concert from the festival circuit.
In addition to costume events, you'll find musical tributes to Classic Disco, 80s retro, great divas from the 90s, and a few more original events. Regardless of your taste in music, or temperament for a party, we will blow your mind
Pearl boasts a truly fabulous venue called Bliss Ultra Lounge as an extra place to play. Two full-size bowling alleys flank each side of this lounge inspired by all things spherical – think bubbles, color and ultraviolet artwork. It's an otherworldly venue that will be a playground by day and the ultimate after-after hours late at night.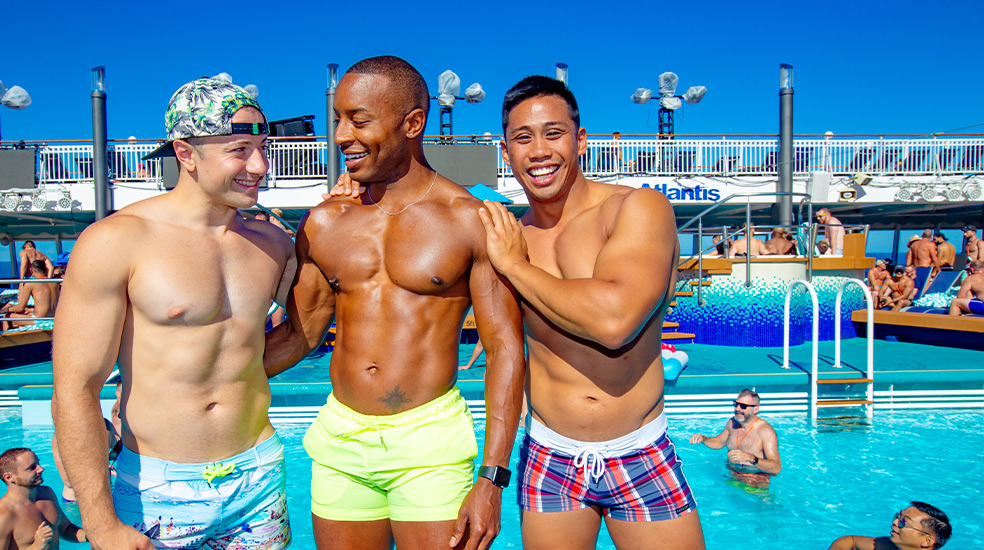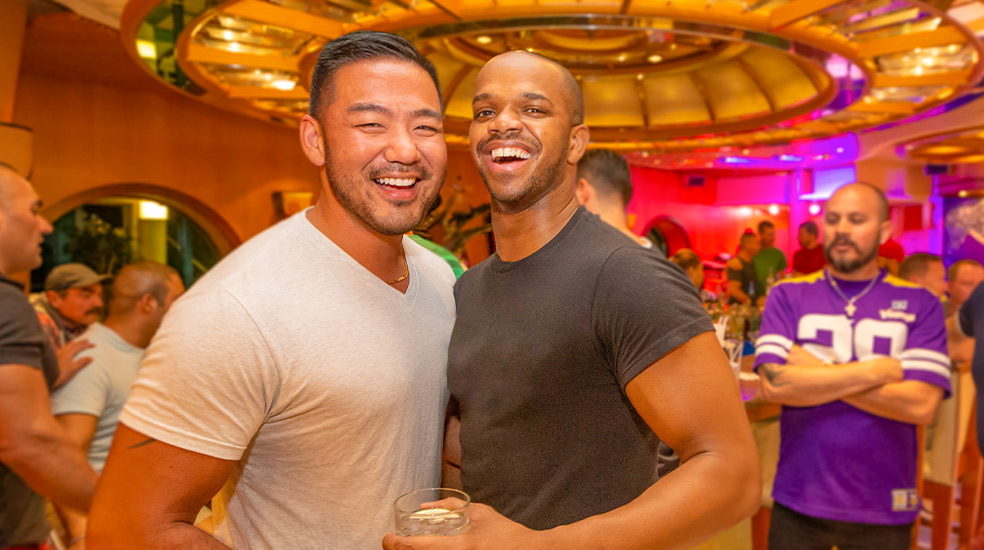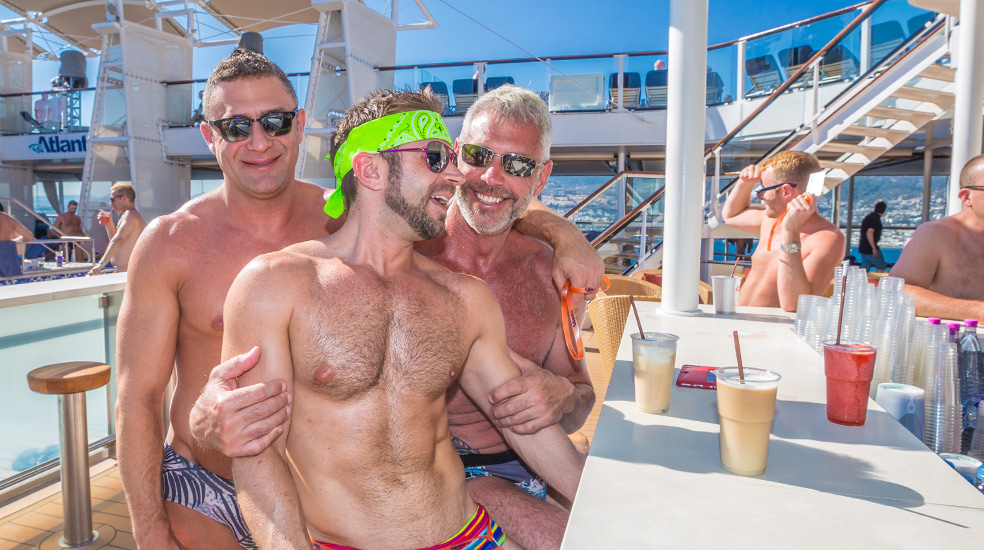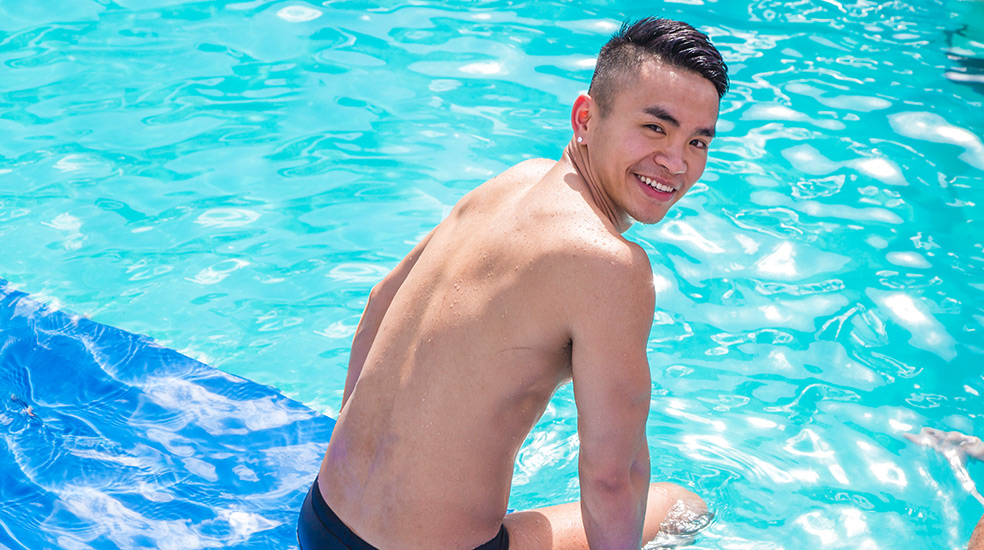 Whether you're a single traveler, cruising with friends, or getting away with your partner, our Tropical Americas cruise offers the perfect vacation for everyone. Friends will always find options to satisfy everyone's taste and plenty of ways to get together. And there's no better place for a couple to discover the joys of traveling together than in a welcoming all-gay environment.
We design our cruise experiences to welcome all, and always attract a great mix of singles, couples, and friends from all over the world!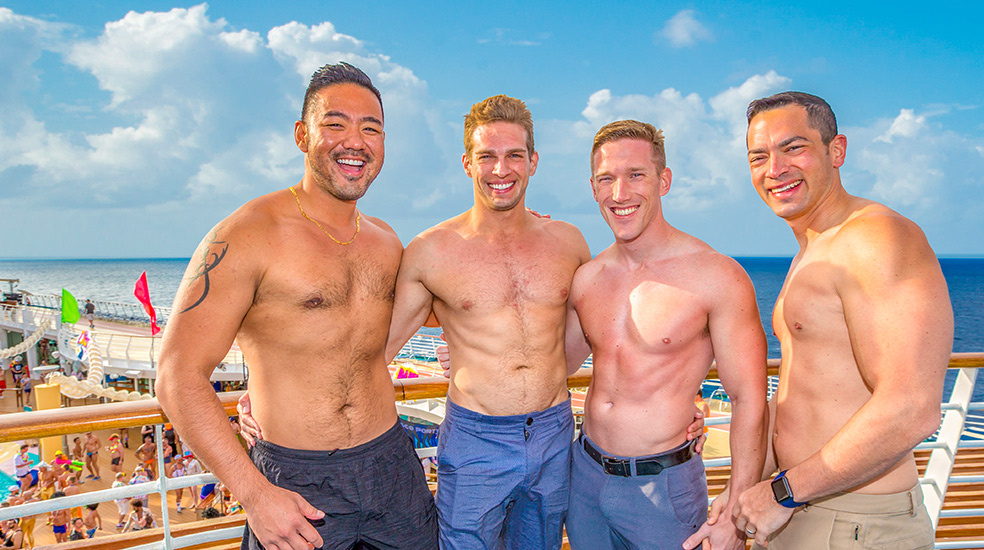 10 Magical Nights from $999
We're celebrating 30 years of all-gay vacations with fares from our past! Imagine 10 nights to explore, play, relax, and re-connect with rates as low as $999. It's our way of saying thank you for your support, particularly in this very difficult time.
Cruising, and even more so Atlantis, is back! And we want you onboard. Whether you've never sailed or have traveled with us for years, we're ready to show you the world again.
But don't delay. Part One of our 30th Anniversary celebration sold out in record time!