Custom-built for the spectacular, Norwegian Bliss features the largest pool deck Atlantis has ever enjoyed, gorgeous outdoor decks, fascinatingly original activities, and a dazzling Observation Lounge inviting you to soak in every stunning moment. The dazzling new 4000-guest Bliss is perfect for Atlantis' biggest West Coast cruise yet!

Designed for All-Day Play
Chill out, unwind, and relax in Bliss' sparkling pools, hot tubs, and countless sun loungers. Pick up a game of volleyball on the outdoor court. Take a thrilling ride in the AquaSlide or around the racetrack. Or let the talented team pamper you in the Mandara Health Spa. Of course, there's plenty to keep you active at the fabulous fitness center, featuring the latest equipment and invigorating classes.

Dazzling Shows. Everywhere.
The gorgeous Bliss Theater boasts the perfect setting for Atlantis' signature entertainers and even full-scale productions of the global sensation musicals Jersey Boys and Six!

The Social Club hosts Atlantis comedy shows, our original cabaret performances, a little drag karaoke and some late, late night dance parties. Drop into the Cavern Club for our showcase of original gay musical talent and up-and-coming drag stars. Pull up a chair at our original piano bar where Atlantis' talented entertainers take you on a musical journey. Try your luck in the gorgeous casino or meet friends in one of the many inviting bars and lounges.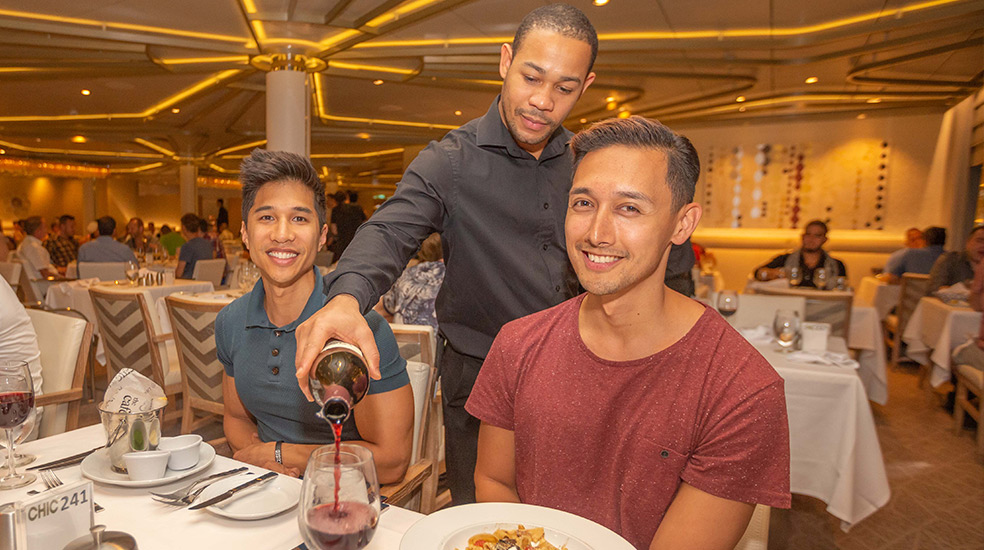 Delicious, Fun, Special, and Never Formal.
With 15 dining options, including a sushi bar, teppanyaki grill, tapas and churrascaria, there's always something new to try on Bliss! Best of all, most of them are included at no extra charge.

From the inviting Savor, Taste, and Manhattan Room main restaurants to the breezy Garden Cafe, you'll always find a variety of tempting delights to satisfy you. As with all Atlantis cruises, there's never a dress code or assigned tables, so you can dine whenever you choose. Our Atlantis team is always there to help you find a table with friends.

Looking for something casual? Garden Cafe is open virtually 24 hours a day, featuring full breakfast and lunch buffets, plus casual dinner alternatives and a late-night service specially designed for Atlantis.

And for something really special, check out the awesome variety of original specialty restaurants on Bliss:

• Ocean Blue features fresh seafood in a refined and elegant setting.
• Los Lobos takes a modern twist to Mexico's most delicious flavors.
• Food Republic lets you travel the globe with a fusion of foods and cultures in a street-vendor like atmosphere.
• Teppanyaki sizzles with surprises at our authentic Japanese restaurant where shared tables meet skillful chefs on a magical grill.
• The American Diner is the comfort food you love with everything from lobster rolls to delicious crispy chicken.
• Cagney's Steakhouse offers premium cuts of beef and all the other classics in a clubby warm setting that demands a good martini.
• La Cucina dazzles with top-quality ingredients in a classic Italian ristorante.
• Le Bistro makes dining romantic with an elegant interior, crisp white linens, and delectable French cuisine.
• Q Texas Smokehouse invites you to dig into some authentic BBQ with traditional sides.

All specialty restaurants carry an additional charge.

Still hungry after all of that? Room service is available around the clock including 24/7 pizza delivery! A service fee may apply at certain times of the day.

Guests in The Haven are invited to dine in the private The Haven Restaurant with unique signature dishes and wine offerings from an impressive selection.
Bliss offers more fascinating lounges throughout the ship, including Observation Lounge, with 180-degree panoramic views of the sea. Enjoy a freshly muddled drink at Sugarcane Mojito Bar, or be a winner in the inviting Casino. Or just settle in for a drink in one of our other inviting bars throughout the ship.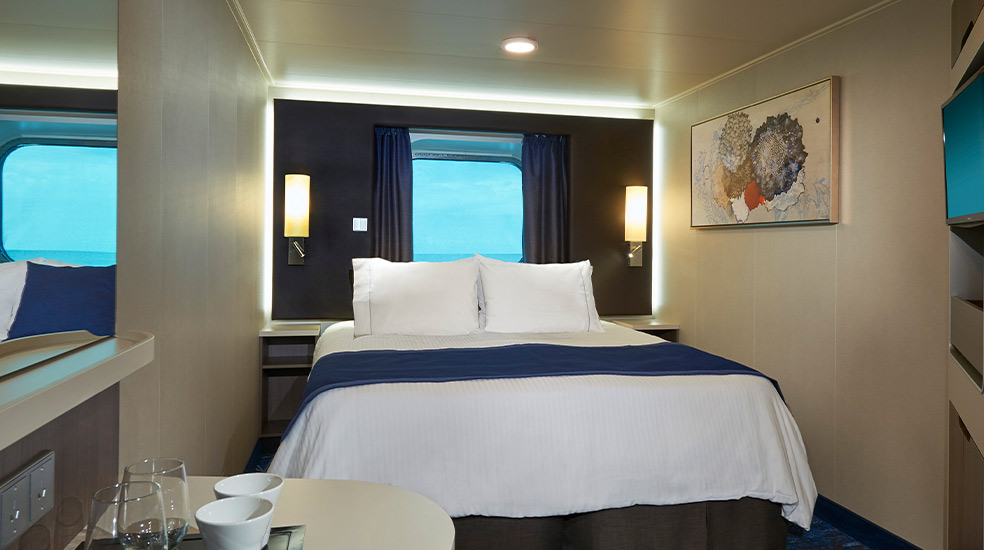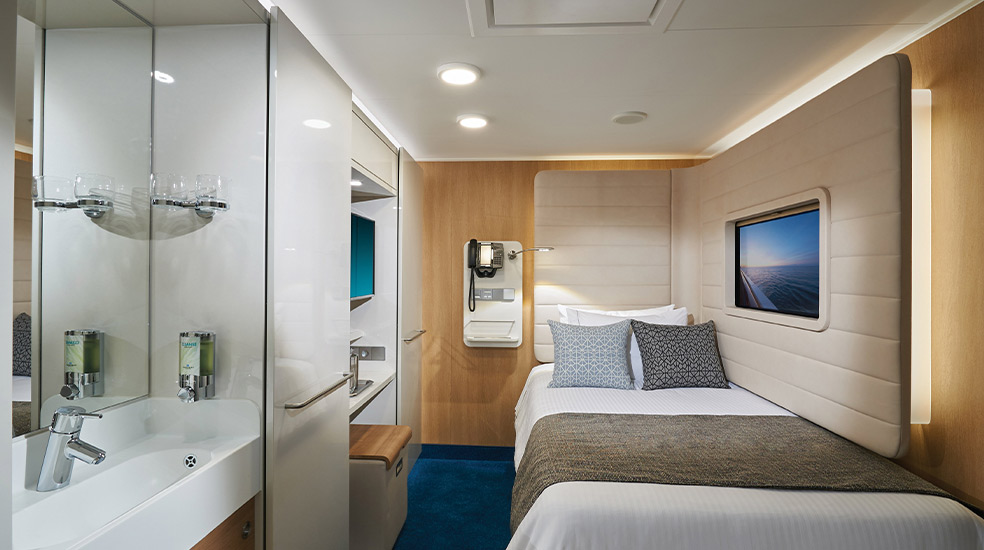 Spacious & Gorgeous Staterooms
Bliss' large and comfortable staterooms all sparkle with a fresh modern look with rich color palates and warm finishes throughout. Over 70% feature private balconies with floor-to-ceiling windows. Every room is state-of-the-art with coffee makers, color televisions, comfortable duvets, and larger bathrooms than most other ships. And of course you'll find a friendly greeting in the morning, ice buckets filled in the afternoon, fresh towels twice a day, and a turned down bed to come home to after a long night.

An entire deck of Club Balcony Suites offers an affordable upgrade to a spacious mini-suite with plenty of space, luxurious touches, and breathtaking private views.

If you're looking for room with a spa, take a look at the variety of Spa rooms throughout the ship. These rooms provide a pampering spa experience with easy access to the Spa and fitness center. Complimentary access to the Thermal Suite is included!

For our single guests, the cozy Studio rooms are specially designed and priced for a solo traveler with a full-sized bed, separate bath area, and access to the private Studio Lounge – no single supplement required.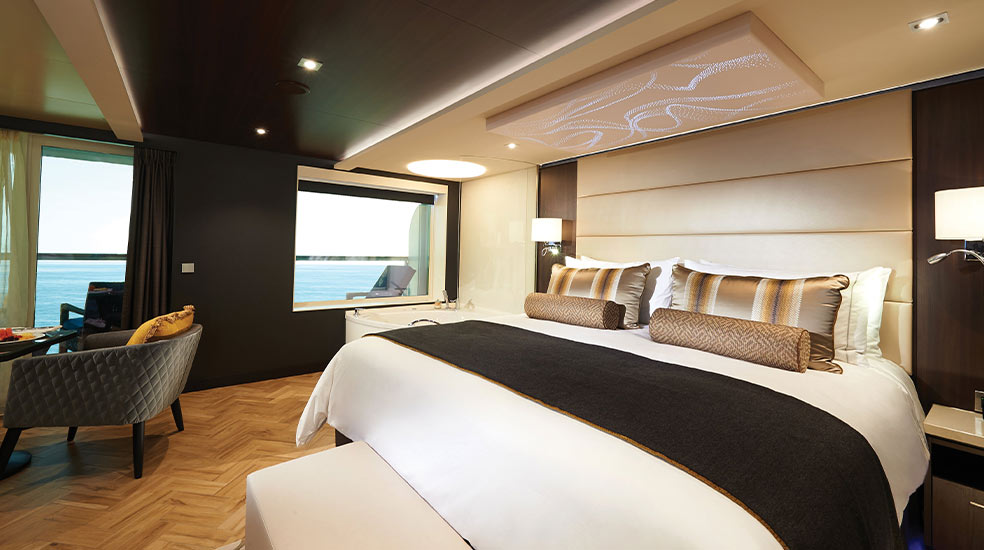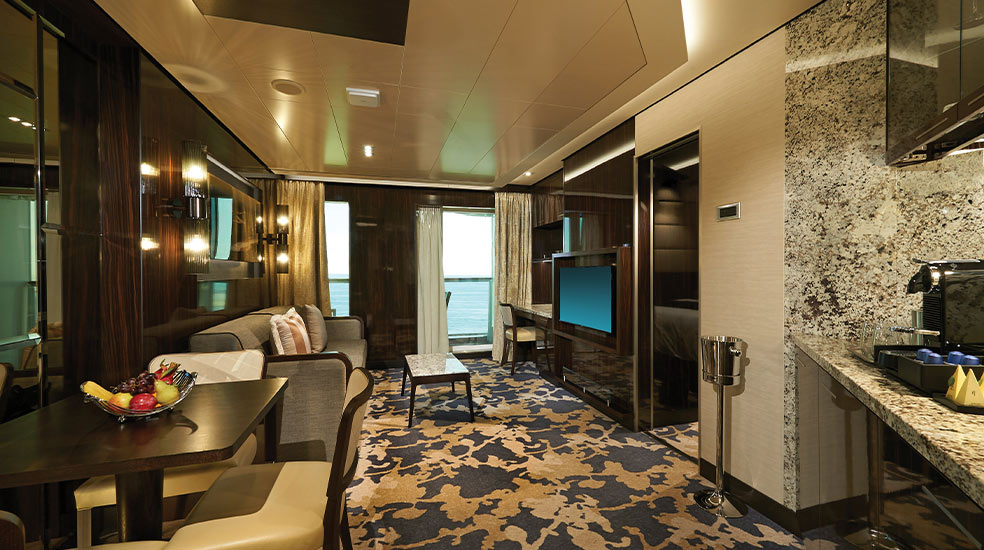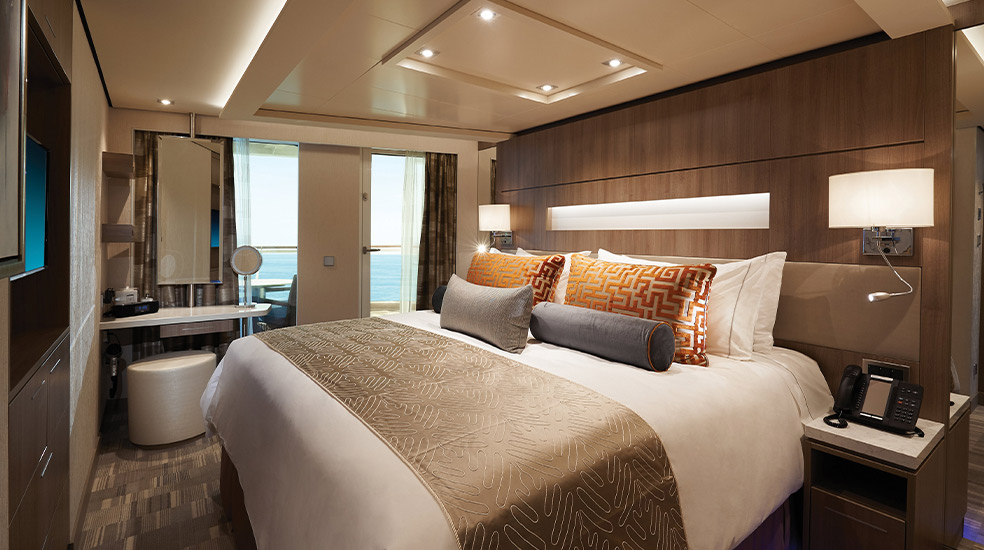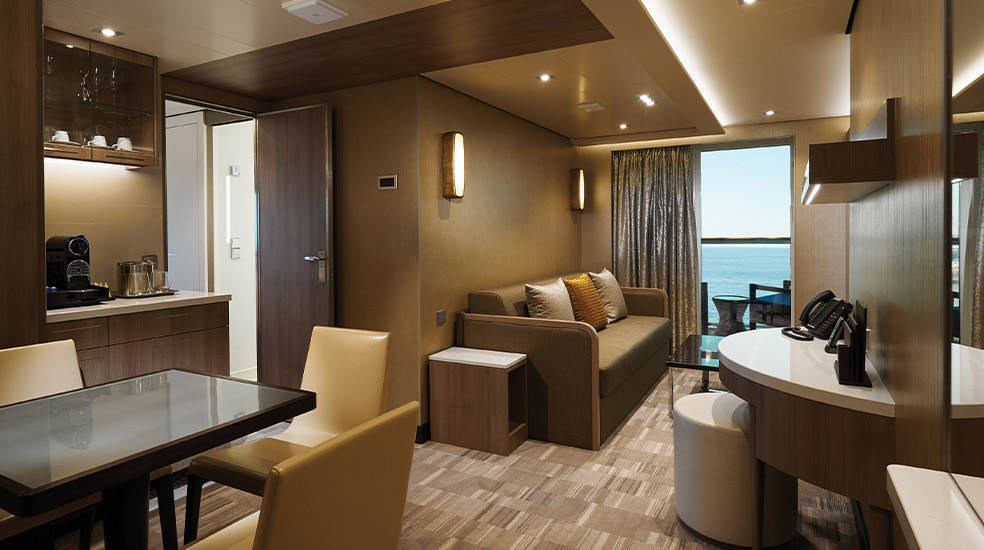 And the Finest Suites at Sea
Hidden at the top of the ship, The Haven features our most luxurious, well-appointed suite accommodations in a private, luxurious setting. Enjoy access to several exclusive venues, a private butler & concierge, and a host of other features to create a very special experience. All Haven guests have exclusive access to these special private venues.
The Haven Restaurant features specialties beyond the main restaurants and specialty restaurants. All can also be served by your butler in the privacy of your suite.
The Haven Lounge is the perfect, private bar designed to let you get away from it all.
The Haven Courtyard and Sundeck invite you to soak up the sun, dip in the private pool, and relax in a secluded hot tub. It's your own private sanctuary, for Haven guests only.