Take Halloween out to sea in 2021 with our biggest West Coast gay cruise yet! Atlantis celebrates 30 years of all-gay vacations with our first-ever sailing on the spectacular Norwegian Bliss from Los Angeles to Mexico's most beautiful beaches and gay-friendly destinations.
Start your week with Atlantis' originally wild take on Halloween, kicking off a non-stop festival of dazzling entertainers, spectacular parties, and endless fun for 4000 guys from around the world.
We're serious about fun this year, with insanely low fares from $999 – the same rates as our very first trip 30 years ago. It's time to play again!
October 31

Los Angeles

4:00 pm

November 1

Awesome Day at Sea

November 2

Relaxing Day at Sea

November 3

Puerto Vallarta

9:00 am

Overnight

November 4

Puerto Vallarta

2:00 am

November 4

Mazatlan

1:00 pm

7:00 pm

November 5

Cabo San Lucas

7:00 am

3:00 pm

November 6

Wonderful Day at Sea

November 7

Los Angeles

8:00 am
Los Angeles
Atlantis' home city of Los Angeles is the perfect spot to start from, with easy access from around the world. If you're driving, there's plenty of parking at the port.
And since we sail on the Sunday of Halloween weekend, there should be plenty going on the night before! Just don't miss the boat...
Awesome Day at Sea
Spend the day relaxing with friends. Linger over brunch. Take in our pool games, drop in for drag queen bingo, and don't miss our first afternoon T-Dance. There's nothing like a beautiful day sailing the Pacific coast.

Relaxing Day at Sea
Relax. Connect. Play. Sleep in a bit, and join a few friends for brunch. Drop into the spa for a pampering treatment or refreshing workout. And wait until you see how we wrap things up for you with some of the finest entertainment at sea.

Puerto Vallarta
Puerto Vallarta has become Mexico's favorite gay destination in recent years, attracting travelers with its mix of classic Mexican charm, casual atmosphere, beautiful beaches and fantastic year-round weather. Handicraft stores and art galleries line the streets of its quaint, cobblestone town center. At night, Vallarta's many gay and gay-friendly restaurants, bars, and clubs offer everything from laid-back to the outrageous.
Puerto Vallarta
Puerto Vallarta has become Mexico's favorite gay destination in recent years, attracting travelers with its mix of classic Mexican charm, casual atmosphere, beautiful beaches and fantastic year-round weather. Handicraft stores and art galleries line the streets of its quaint, cobblestone town center. At night, Vallarta's many gay and gay-friendly restaurants, bars, and clubs offer everything from laid-back to the outrageous.

Mazatlan
Mazatlan is a historic capital as well as a beach resort and lively, romantic town. Returning travelers rave about the welcoming Mazatlecos as well as the beaches, the food, the weather, the music, and the feeling of never wanting to leave.
Cabo San Lucas
Straddling the southernmost tip of Baja California, Cabo San Lucas is a sun-drenched paradise that offers exceptional scuba diving, snorkeling and world-class fishing. For those seeking a more mellow and relaxing time, Cabo offers some of the peninsula's best beaches where the desert meets the sea. Cabo San Lucas' other main attractions include an underwater nature preserve and the striking Land's End rock formations at one end of the bay.
Wonderful Day at Sea
After three days on the beach, it's time to indulge. Treat yourself to a spa day. Or hang by the pool with new friends. This day is all about relaxing. Until T-dance time, and our biggest evening party of the week!
Los Angeles
Welcome back to sunny Los Angeles!
If you're flying home today, allow yourself plenty of time to disembark and go through customs. We'll start around 8 am and don't recommend flights earlier than 11 am.
Halloween is Just the Beginning
Remember the carefree joys of dancing with friends, exploring a new place, reveling in a new adventure, and dressing up, down or silly? When Atlantis does Halloween, we'll bring it together with a mix of dazzling thrills and zany fun. All followed by a week of pure bliss where superstar talent takes center stage, world-class DJs inspire, parties sizzle into the morning, and we all get to see the world again.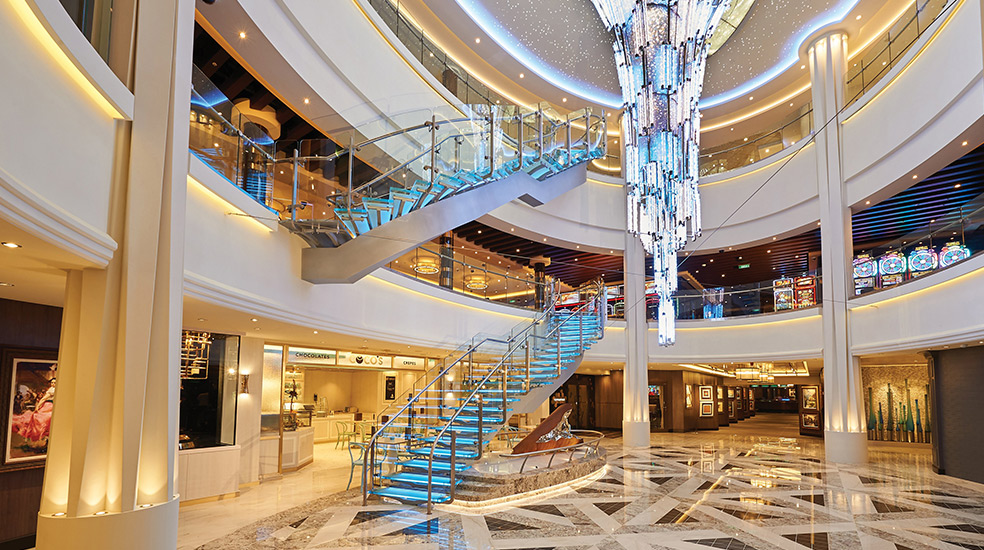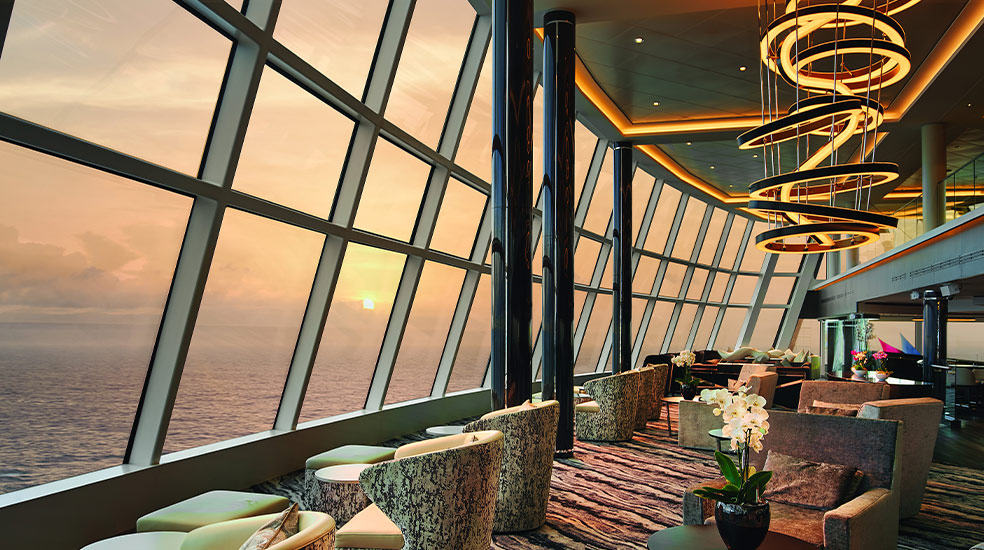 Get onboard the newest and most advanced ship in the West where options abound and a new adventure awaits at every moment. The stunning Norwegian Bliss features the largest pool deck we've ever sailed, perfect for our T-Dances and evening events, original places to play, dazzling entertainment spaces, a bounty of inviting eateries, and a blisteringly cool design throughout.

Chill out in the Vibe Beach Club or take a spin around the Bliss Speedway, the largest racetrack (yup!) at sea. Scream a little on the AquaRacer, and reward a long day out with quality time in the massive Mandara Spa. Meet some friends at the ship's core – 678 Ocean Place, or just people watch on the glorious outdoor pool deck or from the dazzling Observation Lounge. Bliss was built for enjoying the wonders of life at sea with features perfect for us in every way.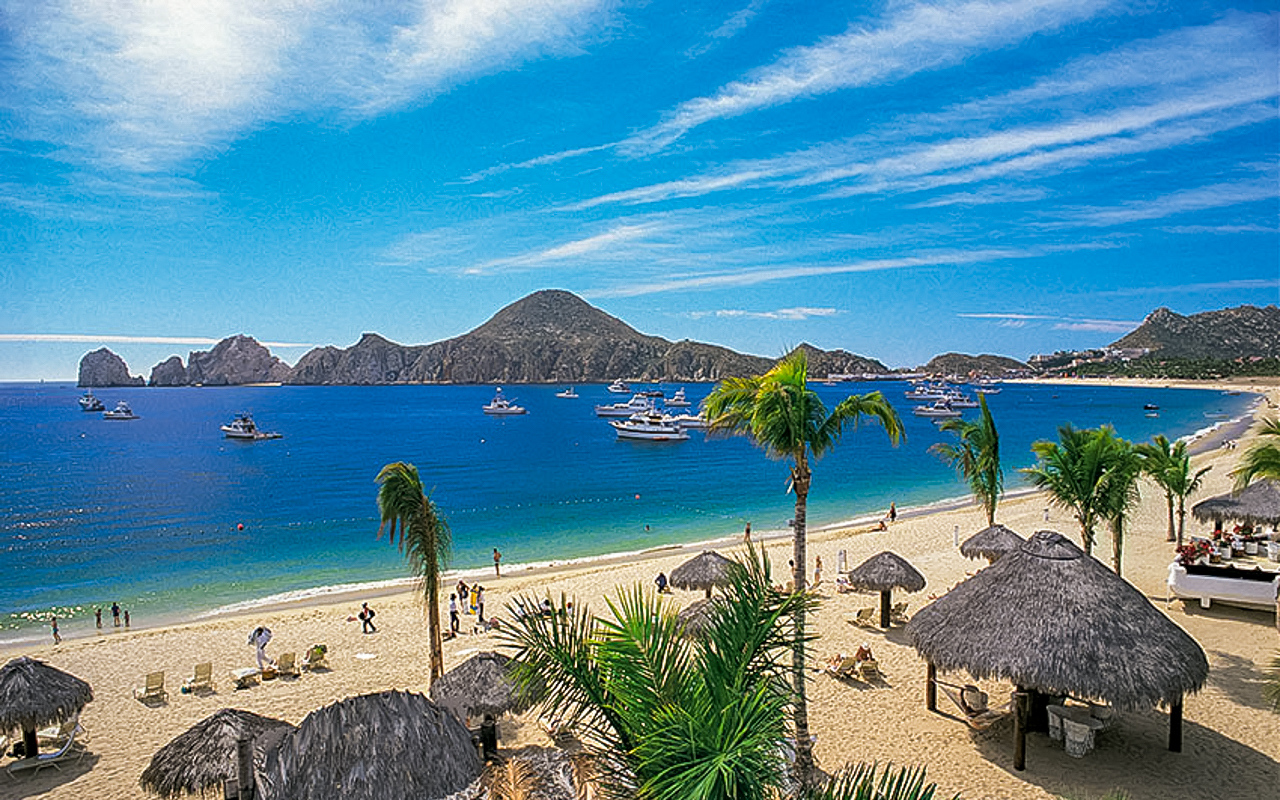 Explore the Pacific's most alluring beaches and cities, including a late-night stay in gay-friendly Puerto Vallarta with plenty of time to enjoy the city's incomparable nightlife and beach culture. Dive, fish, or snorkel in beautiful Cabo San Lucas, or explore a nearby uninhabited beach. Discover the best of authentic Mexico in the charming city of Mazatlan, a remarkable beachfront metropolis.

Find your perfect place in the sun during our three fabulously entertaining days at sea, where options abound, and Atlantis will keep you entertained day and night. From our daytime pool games to festive afternoon T-dances, you'll always be tempted to join in. Take in our afternoon Drag Bingo (the gayest bingo ever), indulge in a long brunch with friends, check out the waterslides and race cars, or find a quiet deck chair on Bliss' massive outdoor decks. And when you're ready to really relax, the Mandara spa features every imaginable treatment along with one of the largest and most complete fitness centers at sea.

We're celebrating 30 years of Atlantis talent with a mix of our superstar entertainers, special guest performers, and dazzling outdoor musical events.

Our white-hot entertainment lineup features a mix of fresh and familiar Atlantis performers including our own stellar gay circus show, Miss Richfield 1981, La Voix, and so much more. We'll even invite a special guest or two from Broadway, TV, or beyond. Past years have featured Olivia Newton-John, Billy Porter, Patti LuPone, Idina Menzel, Kathy Griffin, Jennifer Hudson, Vanessa Williams, Erasure, Cynthia Erivo, and so many others. Who knows who might show up this year?

On deck we'll blow you away with a superstar electronic music show and a few surprises. We've brought you community exclusive concerts by Above & Beyond, Galantis, Markus Schultz, Gareth Emery, Cosmic Gate, and more! Look for an exciting announcement soon.

And that's just the beginning! Bliss offers several intimate spaces to showcase top gay comedians, fabulously outrageous drag queens, Atlantis musical stars, and more from our community. Get ready to experience the largest festival of gay entertainers on the planet!
Nothing compares to dancing under the stars or afternoon sun on the wide-open top decks of a cruise ship, and Bliss boasts our largest and most spectacular venue yet. An incredible and diverse set of spectacular parties will rise up from this remarkable space, featuring concert sound, eye-popping lights, dazzling lasers, mesmerizing video, and the friendliest crowd on land or sea. The world's top gay DJs headline our signature themes with wide-ranging musical styles, designed to fit everyone's taste.

It all starts with a completely original take on Halloween, so start your costume creations now! We'll tell you more about our other theme nights in late June, but just know that we're planning the parties that everyone needs right now!

Late night Bliss offers a fascinating outdoor space called Spice H20 that we'll use for both our after-hours and our first-ever sunrise morning party. Plus we'll create some truly original after-hours events in unexpectedly playful spaces onboard.

Over 30 years Atlantis DJs have curated an original upbeat repertoire that blends today's hottest tracks with musical tributes to Classic Disco, 80s retro, great divas from the 90s, and more. But it's always uplifting, and variety is the key with different sounds at every party. Regardless of your taste in music, or temperament for a party, we will blow your mind.

Of course, any Atlantis event will be planned with your safety first and we will adjust our programming in accordance with the highest standards. We'll keep you informed on our "Already Booked" pages as well as through email notifications.
Take Back Halloween for $999
We're all ready to get away this year, and Atlantis is making it easier than ever with insanely low fares throughout. In honor of our 30th anniversary, we're offering our newest cruise at the exact same rate that we had in 1991! You can get onboard Bliss for just $999 as we take back Halloween and celebrate in 2021!